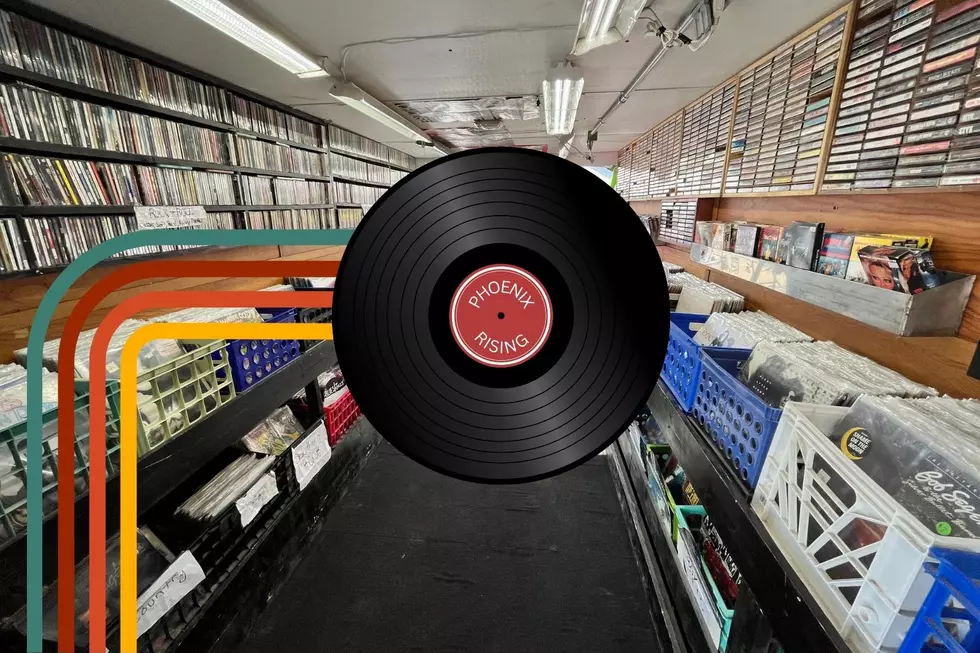 This Vet Owned Record Store Is Rock-n-Rollin from Town to Town
Photo Credit: Keith B. via Canva
The Freedom Flea Market was this past weekend in Hazel Green, Wisconsin. I had time, so I decided to check out the annual three-day event.
Although it was a little chillier than many anticipated, vendors lined Main Street for several blocks. There was plenty of Flea Market flare and friendly purveyors of coffee and other food items. 
Brian Rixen was Rockin' it with his rolling record shop called Rising Phoenix. 
Rixen's fantastic concept sells vinyl records, cassette tapes, band & concert t-shirts, music memorabilia, movies, books, and vintage toys. 
In his first year of business, Rixen uses a retrofitted car trailer to pursue his passion for music while hitting the road on weekends within three hours of his Maquoketa, Iowa home.
"I seek to spark good memories for my customers, which elevates people's vibrations. It's fun to see them get excited about the vinyl records or toys that remind them what it was like to be a kid." - Brian Rixen
Whether it's someone finding that missing album from their collection or seeing the excitement of finding that cool retro concert t-shirt, Rixen is happy to be on the road bringing nostalgia to his customers and making connections with other music lovers. 
Rising Phoenix began with Rixen watching his brother operate a retro vinyl record store in Clinton, Iowa. After a couple of years of observing and learning record buying trends and tricks of the trade, Rixen has spent the past year making the flea market and festival rounds within a three-hour radius of Maquoketa, Iowa, and his Jackson County home.
Sales are brisk enough, and he's having so much fun that Rixen is already scheduling his calendar for 2023. Additionally, he has planned to airbrush the trailer over the winter to make it even more inviting. So upgrades to his rolling store are in the works.
A military vet suffering from nerve damage after a tour of duty during the first Persian Gulf War and forced into early retirement due to his military disabilities, Rixen finds solace in his new endeavor. Indeed he should because his rolling record store rocks! Follow Brian Rixen on Facebook at Rising Phoenix - Pieces in Time.
Top 200 '70s Songs
Ultimate Classic Rock counts down the Top 200 '70s Songs.