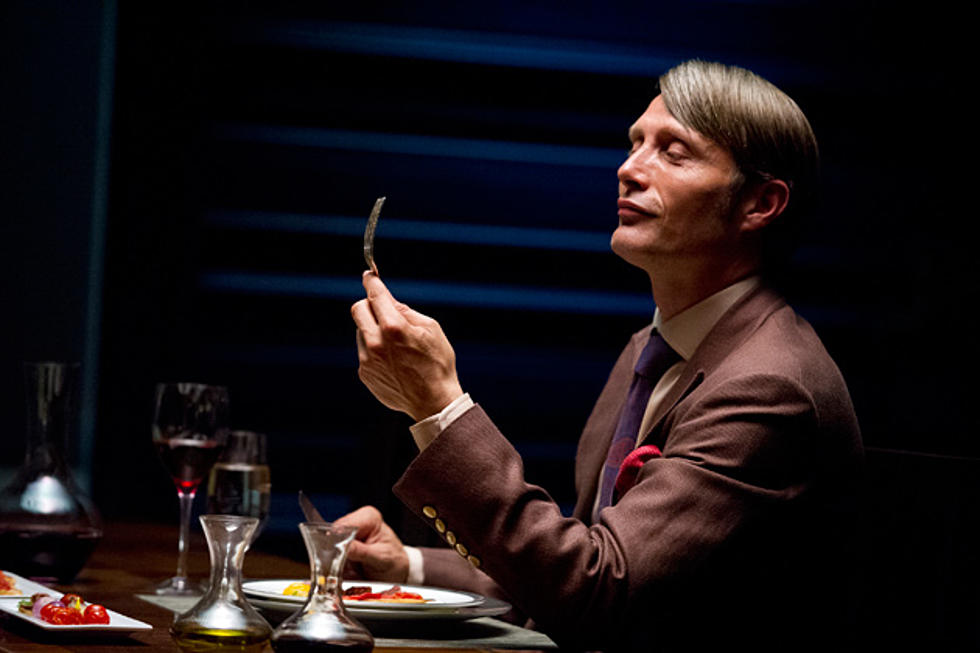 'Hannibal' Season 3: Bryan Fuller Serves Up Plot Details
NBC
Following the shocking and exceedingly bloody 'Hannibal' season 2 finale, we've all got plenty of questions about where the show is heading in season 3. And now that NBC has officially given showrunner Bryan Fuller and his team the go-ahead for a third season, details are beginning to emerge about where the show will be headed next year.
In an interview with TV Guide (via Shock Till You Drop), Fuller divulged some details on his plans for season 3 of 'Hannibal,' which will combine elements of the Thomas Harris novels 'Hannibal' and the prequel story 'Hannibal Rising.' The first two seasons have already adapted elements from Harris' stories, as well as nodded to the films on which they're based -- although we're interested to see how Fuller incorporates the 'Hannibal Rising' story into the proceedings, as that novel and its accompanying film were the least successful of the bunch.
But Fuller and his crew have been adapting the source material in their own unique way, giving us a fresh, inventive take on the Hannibal stories. Fuller says that they'll be significantly changing the Hannibal origin story from 'Rising' and states:
Season three is going to be a lot of fun because it's going to be taking a lot of disparate elements from the novel 'Hannibal Rising' and the novel 'Hannibal' and mashing them up together as part of the thrust of the season. It's going to be fun to bastardize two novels into one sort of Frankenstein season.
He also promises that we'll get to see some memorable characters from the worlds of those novels and films:
My hope is that not only do we have a completely different Hannibal Lecter story in season three, but we will meet some of those great characters like Francis Dolarhyde and Lady Murasaki and weave them into the world in a unique way.
Francis Dolarhyde, if you'll recall, was played in the 'Red Dragon' film by Ralph Fiennes, so we're pretty excited to see who Fuller casts in this part and how he incorporates the stories of Dolarhyde (a serial killer and Hannibal disciple) and Lady Murasaki, the woman who raised Hannibal. Also, with the addition of the Dolarhyde story, it's pretty safe to assume that yes, Will Graham does survive the season 2 finale, which left him bleeding out on Hannibal's floor. In the 'Red Dragon' novel, it's Will Graham who helps catch Dolarhyde. As for Jack Crawford and Alana Bloom, we're not so sure.
More than anything, we're just so thrilled that 'Hannibal' has gotten a third season, as it's one of the most daring and cinematic shows on television. And that shocking finale has us on pins and needles until season 3 arrives.