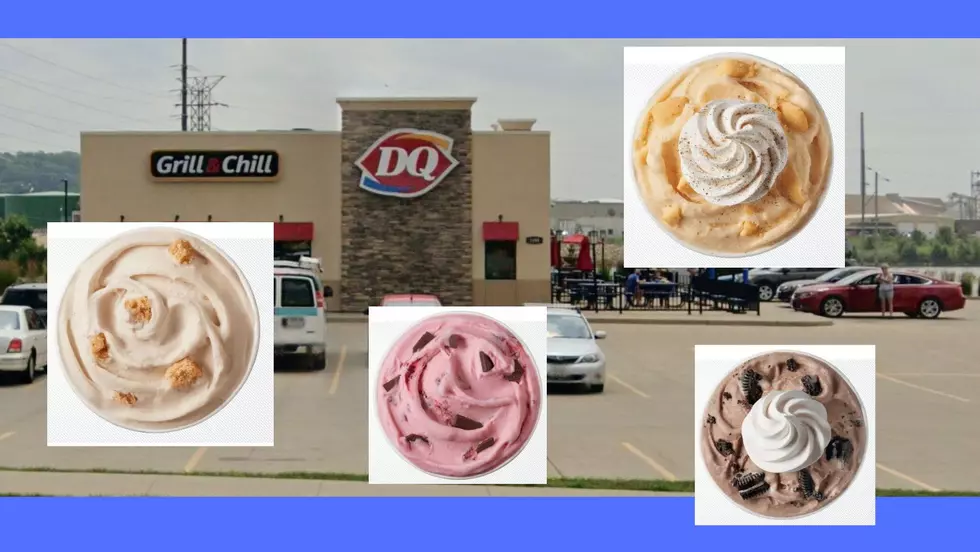 Too Early For Pumpkin Spice? Not At DQ
Credit: Dairy Queen, Google Maps
Yes it's official. I have mums in my front yard and the wife has put up fall décor and wreaths... And I'm totally ok with it! I love fall and not only because my birthday falls in October (that does help though). No, it's because some of the best flavor combos around are back. Take, for instance, at your local Dairy Queen. It's probably some of your last chances to get ice-cream while it's still fairly warm out while enjoying the flavors of the season. DQ is bringing the fall flavors in with 6 brand new blizzards that have just arrived. And man do they look GOOD!
Let's start of with the reason for the season,
The Pumpkin Pie Blizzard Treat blends DQ's soft-serve with real pumpkin pie pieces and garnishes it with whipped topping and nutmeg. No need to wait for Thanksgiving, celebrate the first day of fall and your first bite pumpkin pie today. Ladies, no need to strap on the "fall" boots to get this one; PJ's and the drive through works just fine.
Everyone knows that the best part of a cinnamon roll is the center and so, of course, they had to mix it into one of their Blizzards. Yes, this treat proves you don't have to get up early to enjoy breakfast... and ice-cream. This one features, you guessed it, soft cinnamon roll center pieces, and brown butter cinnamon topping that's been blended with DQ's vanilla soft-serve.
Who could think of fall, campfires, and hayrack rides without Hot Cocoa. Yea, I couldn't either. Which is why this is one of the best combos I've heard of. Who doesn't like Oreos? Who doesn't like hot chocolate? So why not smash them together and mix them with ice-cream. Not gonna' lie; pumpkin spice sounds nice, but this sounds way better to me!
I thought the last one was good, but I love the "black forest" combo of cherry and chocolate. In fact just last year that was my birthday cake... Any who this is another one I'm gonna' have to try. You'll enjoy a cup full of cherry and rich chocolate chunks blended to perfection with Dairy Queen's world-famous creamy soft-serve.
There are two other flavors to try including...
And...
Both of these snacks use the tried and true combos of chunks of your favorite candy blended in to soft-serve ice-cream. Who could resist. And in Dubuque it's super easy and convenient to find your Dairy Queen Stores. I even did the work for you.
Check it out...
See Dubuque, you're spoilt for choice with great ice-cream options in your immediate area. I definitely see those fall flavors in your future!
50 Most Popular Chain Restaurants in America
YouGov investigated the most popular dining brands in the country, and Stacker compiled the list to give readers context on the findings. Read on to look through America's vast and divergent variety of restaurants—maybe you'll even find a favorite or two.