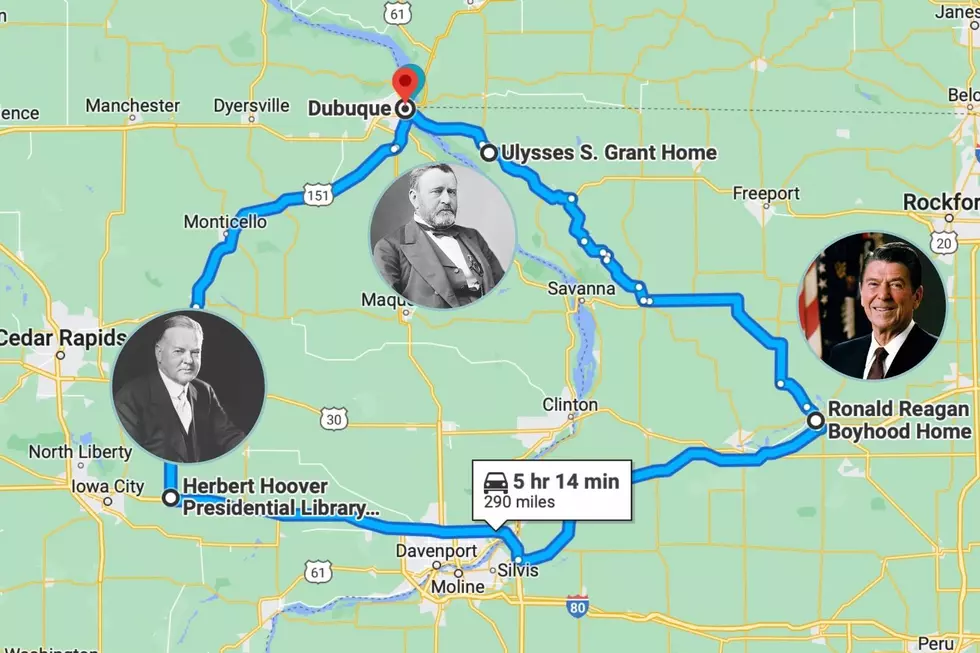 Road Trip: Take the Iowa-Illinois Presidential Loop
Photo Credit: Keith B. via Canva
How well do you know your U.S. Presidential history? Starting from Dubuque, did you know that you can visit the homes of three U.S. Presidents in less than one day?
But, of course, it may require a tank of gas, at least one day of travel, and perhaps an overnight stay to truly get the most out of the historical adventure.
Still, it can be accomplished on what I dub the Iowa-Illinois Presidential Loop.
The trip may be made in either direction. But, for the sake of simplicity, we start the tour in Dubuque and head south to the town of West Branch, Iowa, the birthplace of the 31st U.S. President, Herbert Hoover.
Herbert Hoover was born in a simple two-room cottage on August 10, 1874. It's now a part of the Herbert Hoover National Historic Site and is one of two Iowa National parks.
Hoover's unlikely yet remarkable life can be discovered in full detail at The Herbert Hoover Presidential Library and Museum. The final resting place of the 31st President of the United States, the library is one of thirteen presidential libraries run by the National Archives and Records Administration.
The library & museum galleries tell the life and times of Hoover from his birth to his time as an engineer, Secretary of Commerce, President of the United States, and his post-presidential work.
The charming town of West Branch is approximately 90 miles and minutes south of Dubuque. Founded in 1851, West Branch is considered one of Iowa's most historic towns, with 14 commercial buildings in West Branch on the National Register of Historic Places.
From West Branch, head east on Interstate 80 to 88 to IL-26 to reach Dixon, Illinois, and the hometown of Ronald Reagan, the 40th U.S. President.
Reagan's formative years were spent in Dixon. Seeing and learning about the events, experiences, people, and places helped shape his ideals, qualities, character, and communication abilities.
Reagan's boyhood home is at 816 S. Hennepin Ave., Dixon, Illinois. Listed on the National Register of Historic Places, the Reagan home tour may take about an hour. Admission is $8 for adults and free for all students, teachers, LEOs, Fire, EMS professionals, and active and retired military.
The tour consists of a film detailing President Reagan's family and environment in the 1920 and 30s and a docent-guided tour of Reagan's home.
From Dixon, go north on Hwy 52 to Hwy to Hwy 78 to Hwy 20 towards Galena and the Home of the 18th U.S. President and Civil War Hero Ulysses S. Grant.
General Grant joined his family's Galena leather goods business in 1860 after what had already been a lengthy military career and after trying his hand at farming. Upon the start of the Civil War, Grant heeded Lincoln's call for volunteers. He enlisted and would make history leading the Union Army to victory and eventually becoming the 18th U.S. President.
Upon his return to Galena as War Hero, the grateful citizens presented the General and his family with a furnished house at 500 Bouthillier Street. The family took up residence and maintained the Home during Grant's presidency and beyond. Grant made his final visits to his Galena home in 1880.
Grant's children eventually deeded the home to the City of Galena with a caveat that the residence must always be maintained as a memorial to the Late General and U.S. President. Eventually, the City deeded the home to the State of Illinois, and it continues as a memorial to Galena's most famous citizen.
Grant's home is open Wednesday through Sunday, 9:00 am until 4:45 pm. The cost is $5 for adults and $3 for children.
That's the Iowa-Illinois Presidential Loop featuring three prominent presidential residences. Even if you disagree with their politics, it's still a fun way to learn about and celebrate American presidential history all within a day's drive.
Dubuque's Riverview Park Provides Spectacular Views & Affordable Camping
Life along the Mississippi River remains as Twain described it 139 years ago. While the river and the towns lining its bank may be tamer today than in Twain's time, there remains a calming allure to resting on the riverbank and watching it flow.
Dubuque's City-owned and operated 20-acre Miller Riverview Park and Campground is one of the best places to relax and enjoy the mighty Mississippi.