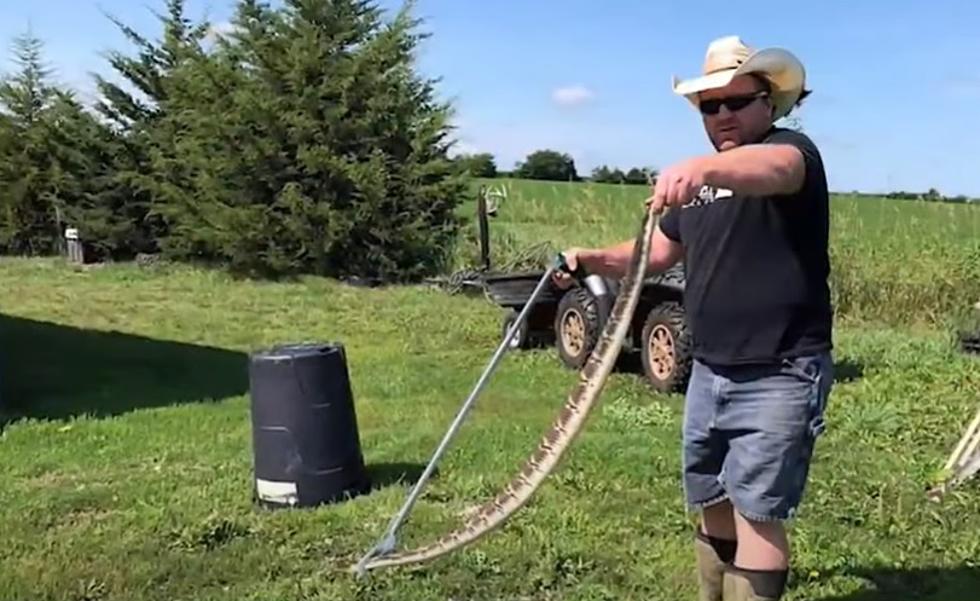 The Iowa County That Has A Rattlesnake Problem [VIDEO]
YouTube via KCCI
The Iowa Department of Natural Resources says that despite the presence of rattlesnakes in Iowa, they continue to be rare in our state. Try telling that to Travis McDaniel. He recently caught his seventh rattlesnake on his Iowa property in the past five years.
While the DNR says that rattlesnakes aren't common in Iowa, the most common kind of Iowa rattler is the Timber Rattlesnake. The DNR says that while they are dangerous and look scary with their fangs, Timber rattlers are fairly docile and calm. I doubt that I would be either if I came upon one. That is why Travis McDaniel's story is so crazy. If I found seven rattlers on my property over the years, I'd move! McDaniel told KCCI that his family moved to their Winterset home five years ago and didn't have to wait long to find their first rattlesnake. They discovered one the first day they moved in!
McDaniel told KCCI that while he understands the dangers that the rattlers can pose to his farm animals and his family, he never harms them. He catches them with his snake stick and turns them over to the Madison County Conservation Board to have them relocated. Conservation Board Director Steve Pearson told KCCI that rattlesnakes are actually a protected animal in the state of Iowa. He also noted that their presence indicates a healthy ecosystem. Pearson also said that sightings go up this time of year because the snakes are breeding.
WATCH OUT: These are the deadliest animals in the world
Plant Some Of These In Your Garden to Keep Mosquitoes Away
As we previously told you, mosquitoes are the most
dangerous creatures on earth
. If you want to keep them away from you're yard, these plants can help!