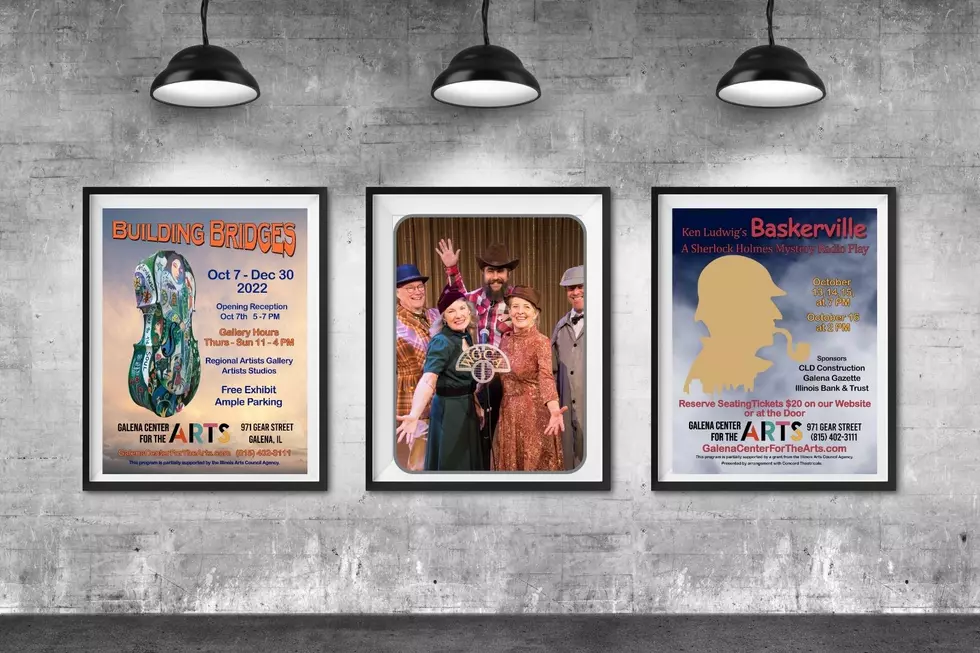 Galena Center for the Arts October Lineup is Chock-Full of Talent
Photo Credit: Keith B. & Galena Center for the Arts via Canva
The ongoing Highway 20 road construction continues in Galena. However, the detour will take you past the Galena Center for the Arts, where tremendous progress is underway to transform the bank building into a dynamic and creative community space.
Look for the fantastic new sign, and the recent newsletter shares that the gift shop will open soon, perhaps in the next month.
The Center for the Arts is settling into its new location at 971 Gear Street in historic Galena, Illinois. There's much to look forward to with its newly renovated theater, gallery, and studio spaces. 
Upcoming Events Include:
Featured Exhibit
Building Bridges Opening Night Reception Friday, October 7, 5 - 7 pm - Through December 30, 2022
"Building Bridges" means many things, but this exhibit represents the bridges built daily by sharing regional art, music, and theater with the community.
Radio Show
Baskerville! Evening Performances on October 13, 14, and 15 at 7 pm - Matinee October 16 at 2 pm
This lively, fast-paced comedy performance is about everyone's favorite detective solving his most notorious case. This adaptation of Arthur Conan Doyle's 1901 classic The Hound of the Baskervilles has lots of intrigue, mystery, murder, and belly laughs. 
Open Mic
Let's Make Music! Tuesday, October 18 at 6:30 pm
Here's your opportunity to showcase your music in the company of other musicians, share your work, and hear and be inspired by their new work, too. Musicians of all ages are welcome. There is a sign-up and a ​two-song limit per turn. 
Songwriters Showcase
Thursday, October 20 at 7 pm
It's an evening of music and fun. There is no cover fee for Songwriters Showcase, but donations are always appreciated.
Featured Artist: Jon Troast is a singer/songwriter who grew up in the Midwest and lives in Bloomington, Illinois. Troast started playing coffee shops, bars, churches, and everything in between to build his career.
Several albums and "Living Room" concerts later, Troast knows how to entertain. Especially after his coast-to-coast tour of 100 shows in 100 days.
To learn more, visit GalenaCenterForThearts.org
Galena Center for the Arts | 971 Gear Street, Galena, Illinois 61036 | Phone:(815)402-3111
Wisconsin Dells: Upper Dells Tour