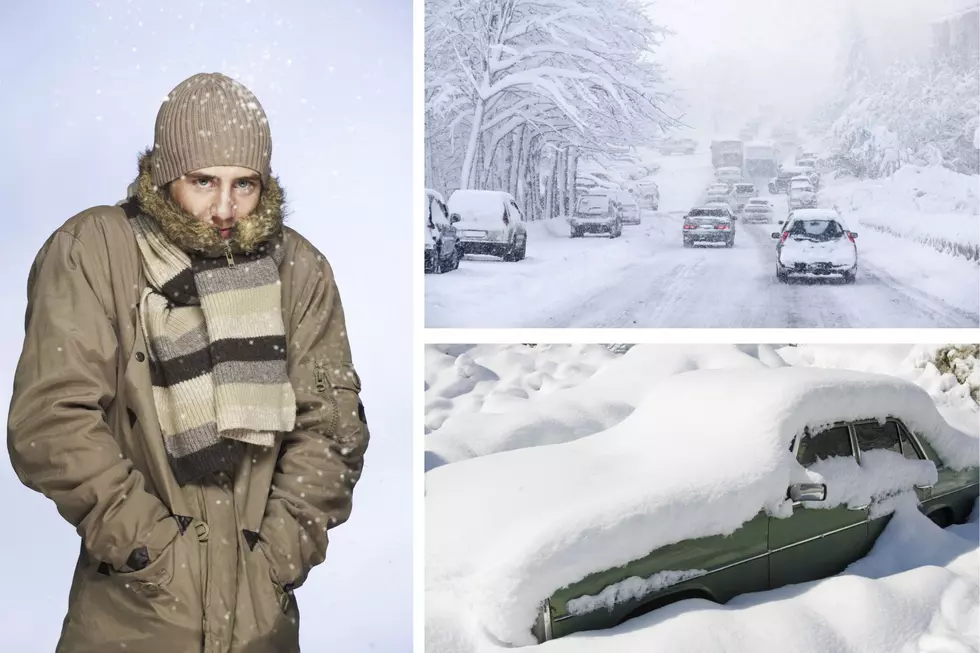 Farmers' Almanac Says Iowa Will Be a "Hibernation Zone" This Winter
Photo Credits: Jupiterimages, Getty Stock (person + snowy car); Irina Igumnova, Getty Stock (snowy street)
I've long-preferred cold temperatures over warm ones. If given a choice, I'd rather it be 10°F outside as opposed to the 90°F. I'm not a fan of snow, per se, but I'm a fan of a hoodie and some thick sweatpants, at the end of the day.
That being said, a quick overview of the 2022-23 Farmers' Almanac's extended winter forecast might get me to pause before smiting the heat as I've done so often this summer.
Since 1818, the Farmers' Almanac has been regarded as the gold standard for weather predictions. Beyond being a resource to farmers, it provides everyone with a broad overview of what to expect from the weather in terms of temps and conditions. It provides the opportunity for people to get out in front of the weather, at least to the best of their abilities.
You might embrace the heat advisories and humidity a hair more after glancing at the winter predictions the Farmers' Almanac released this week. Iowa, as well as Minnesota, Nebraska, Wyoming, and a handful of other states, are predicted to be "hibernation zones" this winter as "glacial, snow-filled" conditions are expected to define our end/beginning of the year.
This comes after Des Moines had its snowiest January earlier this year.
Wisconsin and Illinois are lumped into a different category, with the barometer for their winter being "unreasonably cold" and "snowy." This upcoming year's Almanac predicts we could see record-shattering temperatures, as cold as 40°F below zero!
Iowa might not get nailed as badly as the Great Lakes region. That area, along with the Northeast and North Central regions of the country, will be seeing bitter cold throughout the winter. Meanwhile, the South Central states are forecast to see a bit of accumulating snow, particularly in early 2023.
The Farmers' Almanac went as far as to suggest cold temperatures around the country, including the possibility for "skiing" in south Africa and a colder-than-normal winter for Iceland.
When will spring hit? Not before a few temperamental mood-swings from Mother Nature. The Almanac forewarns of a "lion-like end of March," which could bring everything from heavy snowfall to torrential downpours and gusty thunderstorms across the United States.
View the Farmers' Almanac's full extended winter forecast for 2022-23 season here.
LOOK: The most extreme temperatures in the history of every state
Stacker
consulted 2021 data from the
NOAA's State Climate Extremes Committee (SCEC)
to illustrate the hottest and coldest temperatures ever recorded in each state. Each slide also reveals the all-time highest 24-hour precipitation record and all-time highest 24-hour snowfall.
Keep reading to find out individual state records in alphabetical order.