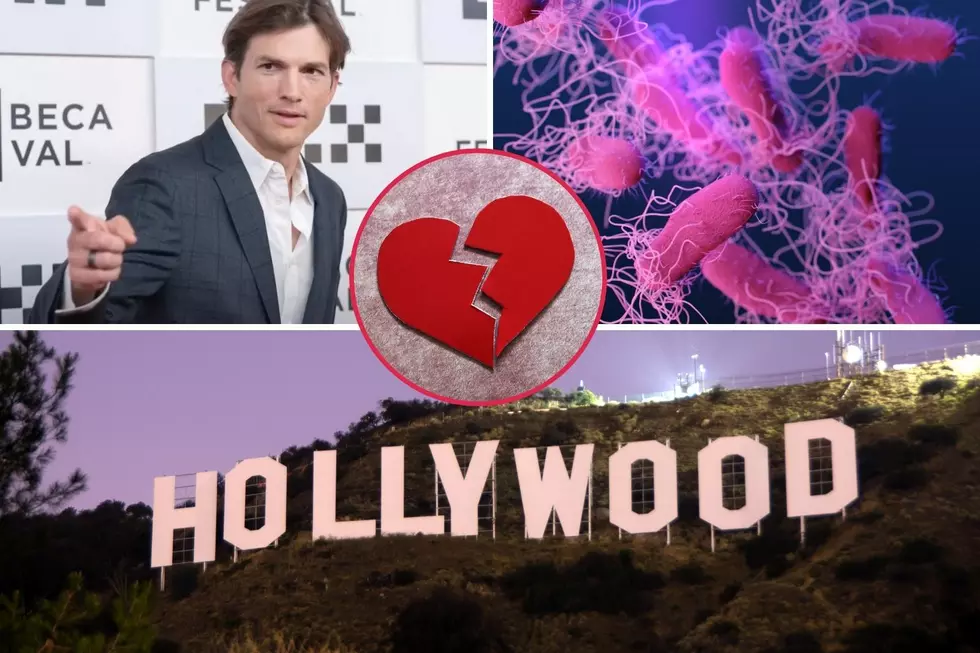 Ashton Kutcher's Wild Hollywood Story of Heartbreak and Disease
Photo Credit: Keith B. via Canvas & Youtube NBC News
The Dude, Where's My Car star and Cedar Rapids, Iowa native Ashton Kutcher is getting attention for revealing his bizarre battle with a debilitating autoimmune disease. Kutcher recently shared his medical issues on an upcoming episode of National Geographic's "Running Wild with Bear Grylls."
It seems a rare disease severely affected Kutcher's hearing, sight, and ability to walk for over a year. Then, finally, Kutcher reveals that he contracted an extremely rare form of Vasculitis. However, it remains unclear how the Hollywood celebrity contracted the potentially fatal disease.
It knocked out my vision, knocked out my hearing, knocked out like all my equilibrium. It took me like a year to like build it all back up. I'm lucky to be alive. - Ashton Kutcher
According to the Mayo Clinic, Vasculitis involves inflammation of the blood vessels. The inflammation can cause the walls of the blood vessels to thicken, which reduces the width of the passageway through the vessel. If blood flow is restricted, it can damage organs and tissue.
There are many types of Vasculitis, and most of them are rare. Vasculitis might affect just one organ or several. The condition can be short-term or long-lasting. Kutcher has clarified that he has recovered. So much so that he is reportedly training to run the New York City Marathon.
Like many medical cases, it sometimes takes a well-known celebrity like Kutcher to draw attention and awareness to an issue or disease seemingly rare but prevalent enough to establish a Vasculitis Foundation with a comprehensive website and international fundraising effort. Its mission is to inspire and empower individuals with Vasculitis and their families through a wide range of education, research, clinical, and awareness initiatives.
Ashton Kutcher's Iowa to Hollywood Story
Kutcher's is a true rag-to-riches Hollywood story. Enrolled at the University of Iowa, studying to become a biochemical engineer in the mid-1990s, Kutcher was approached by a model scout while patronizing a popular Iowa City bar. So Kutcher would pursue a male modeling career, eventually drop out of college, and move to LA to make his mark in television and film. It wasn't long before Kutcher got his break and made it big as an actor.
He starred in "That '70s Show" sitcom and landed projects with comedy legends such as Bernie Mac and Steve Martin.
In addition, the actor makes headlines for his relationships and marriages. One tragic situation was the bizarre 2001 murder of Ashley Ellerin, a 22-year-old fashion design student, murdered in her Hollywood home as she prepared to go on a date with Kutcher. Kutcher arrived for the date but reportedly left when miss Ellerin did not respond when he came to pick her up.
Kutcher dated and married famous actress Demi Moore and ex-wife of Hollywood superstar Bruce Willis. Interestingly, Willis also recently reported his rare aphasia diagnosis – a language disorder caused by damage to the areas of the brain responsible for expression and comprehension. Willis announced the diagnosis as the end of his acting career.
Despite the Hollywood drama of their 15-year age gap, Kutcher and Moore remained together until 2011, when news broke that Kutcher was allegedly unfaithful. The 80s Brat Pack, Saint Elmo's Fire, and G.I. Jane star called it quits and divorced in 2013, just two years before Kutcher married That 70's Show costar Mila Kunis.
Moore has spoken publicly and written about her battles with prescription drugs, emotionally devastating lost pregnancies, and the heartbreaking news of Kutcher's infidelity she received over a text message.
The Iowa native's life often finds sensational ways of producing attention-grabbing headlines and continues to read like a wild movie script. It'll be interesting to see who will eventually play Kutcher in his bizarre yet fascinating Iowa to Hollywood tale.
The Life and Times of Ashton Kutcher
Did You Know These Famous People Were From Iowa?