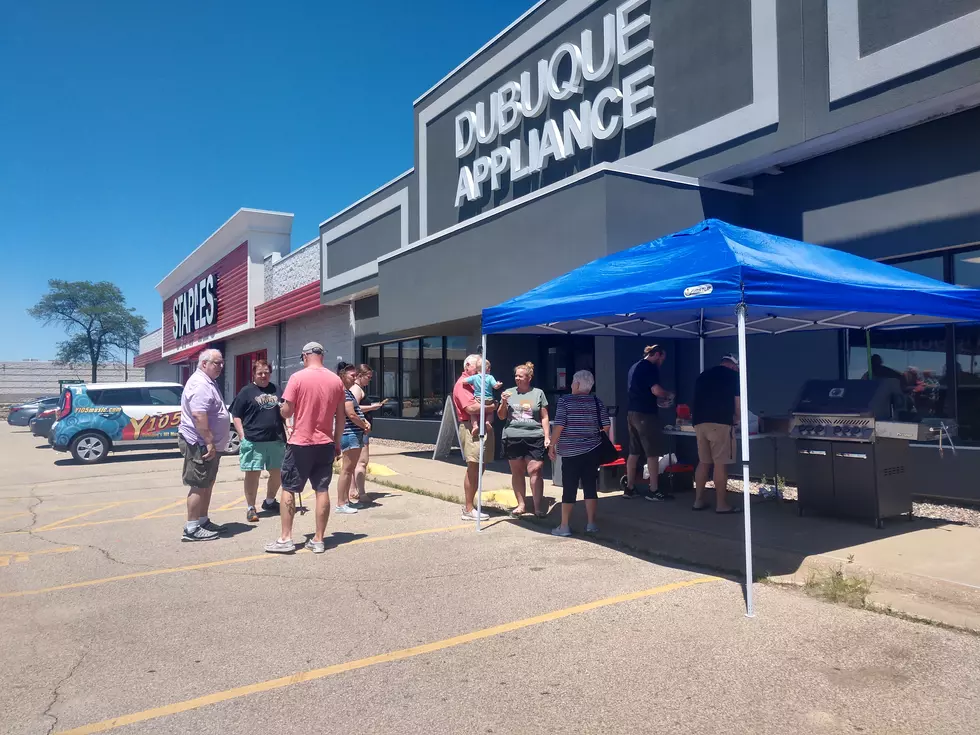 Dubuque Appliance's "Cookout Sale" Had Street Tacos to Go with Great Deals
It was a busy Saturday afternoon at Dubuque Appliance, with their Cookout Sale and street tacos! Photo Credit: Steve Pulaski
You have to make the most of those summer weekends in the Midwest where the weather is warm, but not sweltering. It was a pleasant 80 degree afternoon in the Tri-States this past Saturday, which made Dubuque Appliance's "Cookout Sale" that much more perfect.
Dubuque Appliance was not only commemorating the start of summer, but they had Grillmaster Jonathan of Napoleon grills out at their store. Jonathan was firing up Napoleon's Prestige model. Dubuque Appliance recently got Napoleon's highly rated lineup of grills in store and they wanted to showcase their abilities for everyone to see!
When I got to the store around 10:45am, the smell of pork, sweet pineapple, and peppers was already of emanating from the grill. Jonathan had prepped his station early, overloading one of Napoleon's skewers with delicious fruits and vegetables that would be a perfect complement to the Mexican street tacos he was set to serve.
Jonathan didn't even get a chance to cut the meat when a crowd of intrigued passersby stopped by his tent to take in the aroma. They patiently waited for their Mexican street tacos, topped with their choice of mild or hot sauce.
The tacos came out perfectly. I'm a hot sauce fan, so the spicy chipotle was right up my alley! You can see Dubuque Appliance's line of Napoleon grills here!
The "Cookout Sale" wasn't just about showcasing Napoleon grills. It was also a chance to get some great deals on washing machines, fridges, and more! Many of these deals extend beyond the week, so you can still get great prices on a variety of items at Dubuque Appliance!
Store manage Dalton was kind enough to show me around and point out some of the deals!
It was another great event for Y105 and as well as a fun time being out and about in the beautiful summer weather.
Dubuque Appliance prides themselves on being "your local self-servicing appliance dealer." Visit them at their new home, located at 190 John F Kennedy Road in Dubuque, next to Staples! Follow them on Facebook as well!
Iowa Is Home To These World's Largest Things