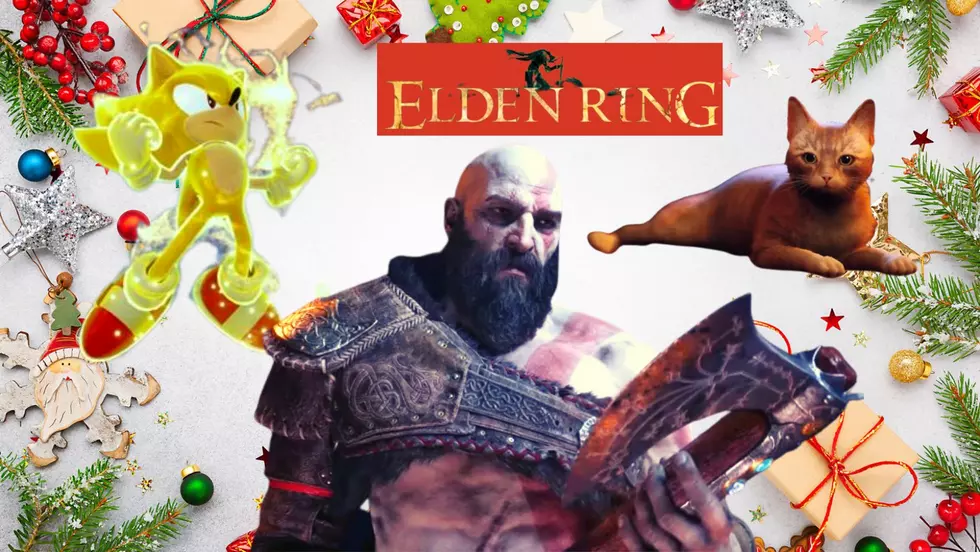 Top Video Games This Holiday Season; Show Your Kids (Gamer) This List!
Credit: Sony, Sega, Stray, Bandai Namaco
2022 has been a killer year for games; Stray, The Quarry, Tiny Tina's Wonderlands, and Elden Ring; just to name a few. Well as we enter the holiday season, I wanted to do a little homework to help make your gift giving for kids, and gamers alike, super easy this year. So here it is...
Tom Drake's Top 10 Games for 2022 (& Honorable Mentions); The Holiday Edition. Buy them. Gift them. Get your game on! I even placed links to find these games to purchase! Just click the title!
Sonic Frontiers was announced in 2021 for Sonic's 30th anniversary, but Sega kept the game under wraps until earlier this year. This is another game looking to try and take advantage of the open-world trend; unfortunately, Sonic games have not had much luck moving away from 2D side scrollers. Sonic Frontiers looks to blend a truly massive overworld, with the classic explorable Sonic stages. Look for this one across all major consoles available on November 8th.
Of course, classic Pokemon would make the list. It's been a bit since Pokémon Sword and Shield came out. And the latest generation of Pokémon games looks to make some changes to the formula. Changes will allow the players to pursue three different storylines: Team Star, the Path of Legends, and Victory Road.  Enjoy plenty of new Pokémon, and old Pokémon with the new "Paldean" forms. Available only on Nintendo Switch November 18th. This is going to be a big Christmas list item this year.
For that adult gamer in your life; this atmospheric monstrosity just released, but it's already at the top of many gamers list. Those fans of survival and body horror may want to give this game a go. This H.R. Giger-inspired nightmare fuel of a game is the newest first-person horror adventure with heavily unsettling aesthetics.
Who wants to be the cutest orange tabby? If you answered "ME!" then this is the game for you. Lost, alone, and separated from his family, a stray cat must untangle an ancient mystery to escape a long-forgotten city. It's cyberpunk meets kitty-cat. See the world and interact with the environment as a cat; be stealthy, nimble, silly, and sometimes, as annoying as possible with the strange inhabitants of this mysterious world.
6) Lego Star Wars: The Skywalker Saga
How could Star Wars NOT make the list after the recent hugely successful entries from Disney. Player every single moment of every single film and let the blocks fly! The game has received generally favorable reviews with praise for its graphics, level design, exploration, and humor. Some mixed opinions were directed at its side content and combat, and a lack of online co-op were criticized, although local multiplayer is here. This game is available for Windows, Nintendo Switch, PlayStation 4, PlayStation 5, Xbox One, and Xbox Series X/S and has so far sold more than 3.2 million copies.
From the makers of the original Dead Space (people have already been calling this "Dead Space 4") comes one of the most anticipated games of the holiday season and most likely the scariest one as well. The Callisto Protocol takes everything that is sci-fi horror and smashes it together into one spooky amalgamation. This game is the latest from the mind of Glen Schofield. Fight to survive the horrors locked within the walls of Black Iron Prison. See if you can survive, starting December 2nd across all major consoles.
Ok, this one divides opinion a little bit. Diablo Immortal was guaranteed to be controversial as soon as it was announced. Take the most esteemed PC franchise of all time. Check. Then make it a mobile game. Check. Then make it microtransaction-heavy. Ugh, check. And although it is technically a free game, that last one stings a bit; but nothing changes the fact that Immortal feels really good on my iPhone. Diablo's musts are still here; party up with friends and delve into cursed catacombs and tombs to live that "loot-life". This game is ready for your mobile device and on PC.
A Plague Tale: Requiem, is a sequel to the critically acclaimed A Plague Tale: Innocence by Asobo Studio and Focus Entertainment. Amicia and Hugo set out to find a mysterious island in the hope of ending the curse which runs through Hugo's blood. This one just released on October 18th and already looks stunning on Xbox Series X|S, PlayStation 5, PC and Nintendo Switch.
What can I say about this game. It's breath taking. A massively expansive world with fully flushed out characters. Loads of loot to grab. Epic boss battles around every corner. And a game as punishing as it is fun. I only have the bosses of the consecrated snowfield and Radagon himself left to defeat. RPG and Dark Souls fans will rejoice if this is in their stocking. In addition, this game will be receiving FREE DLC to continue the story.
The re-imagining and revamping of Kratos story to intertwine Viking lore and legend has been a welcome site to one of Sony's biggest and best anti-heroes. Fans of the series have been looking to God of War: Ragnarök since the game was announced over two years ago. It was one of the bigger titles coming to PlayStation 5 in 2022. It's coming to PlayStation 4 and PlayStation 5 on November 9th and continues Kratos and Atreus' story as Ragnarök approaches. The production studio has assured fans the story wraps up here. You don't want to miss it.
Hopefully this list makes your holiday shopping a little easier this year. My kids have already got their eye on Minecraft for the Nintendo Switch, a definite honorable mention and speaking of which... Here's other can't miss games that could be at the top of your gamers list;
CHECK THEM OUT: 100 years of Christmas toys, gifts and fads
Photos: Eden Valley Refuge
A trip through the trails and nature center at Eden Valley Refuge in Baldwin, IA