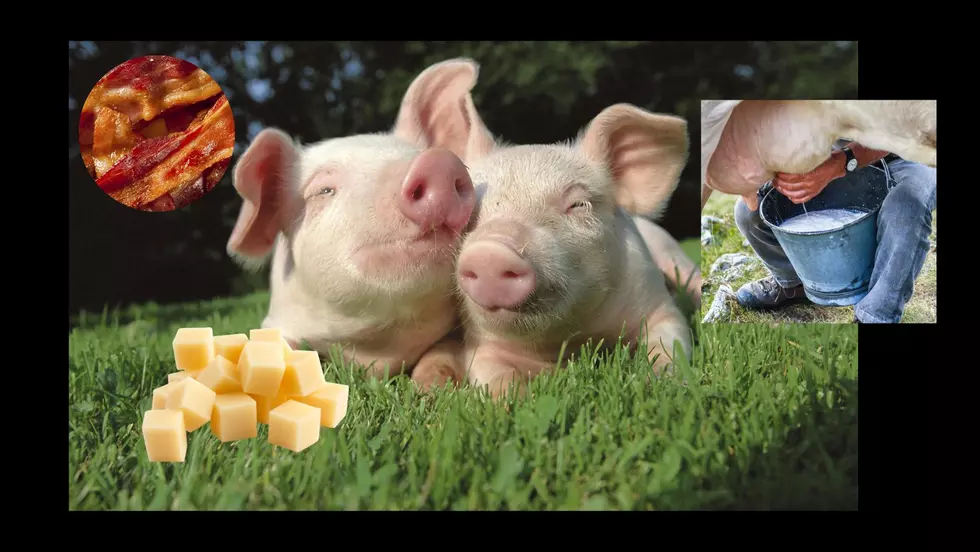 Pigs = Bacon, Could They Also Equal Milk?
There is only one thing to call this, I stumbled down the rabbit hole this morning doing some show and promo prep stuff and found an interesting article (Well interesting to me). You see, I grew up on a pig farm in Monticello, IA. And in the many years of my youth, I never once thought about the possibility of milking those hogs. Yes, that was the subject of this article from the MSN rabbit tunnel, which links back to a series of letters published by the Illinois Pork Producers Association, entitled "Why Don't We Drink Pig Milk".
In the letter the Illinois Pork Producers Association states that the milk would likely "taste great." They explain the reason for that may be that the milk from hogs would have a higher fat content. Pig milk has a fat content of 8.5%, which is higher than the 3.5% found in cow milk. So in theory pig milk would probably be delicious since humans respond well to fat content in their dairy products.
The letter goes on to explain that although it is possible to milk a pig, it is unlikely to be profitable, as hogs simply do not like to be milked and were never domesticated in the same way as dairy cows were. In addition there is currently no economic way of mass producing it. Hogs can only produce 13 pounds of milk a day, compared to the 65 pounds of milk per day for a cow.
Most of my digging today has shown that pigs milk is "gammier" than goats milk and in that regard may be less than ideal to drink. However, the cheese from it is said to be world class. It has been described as having a concentrated and intense flavor. Chef Edward Lee (Louisville's 610 Magnolia and Top Chef) once prepared a ricotta cheese from pig milk, which he described as "delicious".
Another historical tidbit, A Dutch farmer produced one of the first experimental pig milk cheeses. As many as ten people worked to milk the sows for dozens of hours. Several of the attempts to produce cheese failed. They managed finally to make a few kilograms. It was reported that it tasted "chalky and a little bit salty" and compared to other cheeses "saltier and creamier, yet grainier". The cheese was sold to an anonymous buyer at a children's charity for $2,300 per kilogram. The price fetched was higher than the most expensive variety known as pule cheese (Or magareći sir; a Serbian cheese made from 60% Balkan Donkey milk and 40% goat's milk). Although the exclusive cheese was quite expensive, the proceeds were donated to a children's charity; with the cheese maker admitting that "due to the huge number of man-hours required, making the cheese was probably a one-time thing."
Which brings me to what my original thought was to seeing that article today...
So that's why we don't milk pigs; but I would like to try that cheese...
LOOK: Food history from the year you were born
From product innovations to major recalls,
Stacker
researched what happened in food history every year since 1921, according to news and government sources.