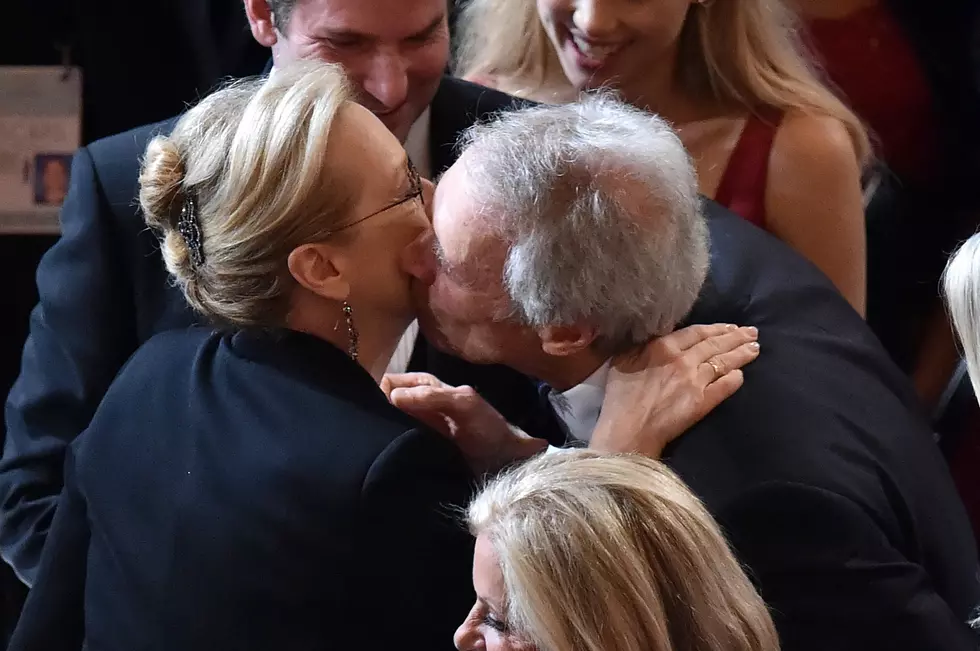 From Clint (Eastwood) to Crazies: Five MORE Movies Filmed in Iowa
Meryl Streep and Clint Eastwood, stars of "The Bridges of Madison County," share a moment at the 87th Academy Awards. Photo Credit: Kevin Winter, Getty Images
Last month, I wrote a piece about movies that were shot in Iowa. It was a fun deep-dive for me, and I could tell it resonated with you too. Some inclusions even made people nostalgic, such as F.I.S.T. I teased at the end of that list that another one featuring more movies filmed in Iowa could be on the list. I'm happy to say that the wait is over!
Here are another five movies filmed in our great state, including information on where you can watch them!
#1: The Bridges of Madison County (1995):
Based on the novel by Robert James Waller, The Bridges of Madison County was a Clint Eastwood movie that went on to receive numerous awards when it was released in the summer of 1995. The film was set in the mid-1960s and centered around a pair of adult siblings (Meryl Streep and Victor Slezak) returning to the mom's Iowa farmhouse in order to settle her estate after her death. Streep's character, Francesca, an Italian war bride, meets Robert, a National Geographic photojournalist assigned to photograph area bridges.
Set in Iowa, the film was also shot on-location in Iowa. Production lasted 42 days and was filmed in Madison County, Iowa, including the town of Winterset. The Roseman Bridge in Winterset proved to be a recurring image in the film as well. The Dallas County town of Adel also served as the backdrop for several scenes.
Where to watch: HBO Max
#2: Cold Turkey (1971):
Norman Lear is responsible for some of the greatest sitcoms of all time, including All in the Family, Sanford and Son, The Jeffersons, and Good Times, just to name a few. Lear is set to turn 100-years-old in July 2022, still active in a number of different industries.
Back in 1971, before he was a household name as one of the founding fathers of the contemporary sitcom, Lear directed Cold Turkey, a satirical comedy about "Big Tobacco." The plot revolves around an advertising executive who convinces a fictional tobacco company to issue a challenge: a tax-free check for $25 million to any city in America that can quit smoking "cold turkey" for 30 days.
The film stars Bob Newhart as the aforementioned executive and Dick Van Dyke a church minister in the fictional Eagle Rock, Iowa, the town that ultimately decides to go for the massive stimulus check.
The very-real town of Greenfield, Iowa was used as Eagle Rock. Many locals at the time were used as extras. Like The Bridges of Madison County, some neighborhood scenes were shot in Winterset. The scenes at "The Grayson Mansion" were filmed at Terrace Hill, and other locations in Marshalltown served as exterior shots.
Cold Turkey was a decent box office success despite United Artists shelving the film for two years due to concerns about its potential to make money. It was supposed to see a release in 1969, but didn't until 1971. It was ahead of its time with anti-smoking campaigns not yet a focal point in society.
Yet again, Lear was a pioneer.
Where to watch: Pluto TV (free), Amazon Prime Video
#3: The Crazies (2010):
A medium-budget remake of the 1973 horror film, The Crazies was a relatively low-key release in February 2010 that still managed to leg its way to nearly $60 million at the box office. The story is the brainchild of "zombie godfather" George A. Romero, most famous for Night of the Living Dead and Dawn of the Dead.
The Crazies is set in the fictional town of Ogden Marsh, Iowa, which becomes afflicted by a nasty biological agent that turns infected people into violent killers. It leads to people fleeing the town en masse while some survivors, led by Timothy Olyphant, stay in Ogden Marsh to fight back.
Georgia was used as the primary filming location, but some of The Crazies was shot in Lenox, Iowa, a tiny town of less than 2,000 in Taylor and Adams counties. The film was also noteworthy for its makeup effects, which required a lot of attention to detail in conjunction with the special effects (created by the late, great Robert Green Hall).
Where to watch: Pluto TV (free), Tubi (free), and Vudu (free)
#4: Janie Jones (2010):
2010 saw Iowa on the big screen in multiple projects, one of which Janie Jones, a low-key drama about a fading rock star who meets his daughter for the first time. The daughter, played by Abigail Breslin, has been left to care for herself since she was a baby with a drug-addicted mother. Now, she's 13, and she's not pulling any punches with her father.
Breslin got the script for Janie Jones while filming Zombieland, initially intimidated by the idea of singing and playing guitar but quickly embracing it once filming started. Filming took place in Des Moines in September 2009. There were a number of opportunities at the time for extras in the movie, and even a Des Moines gas station and motel made it in the final cut.
Janie Jones received a relatively muted release in theaters despite boasting a handful of names (Breslin, Elisabeth Shue, Brittany Snow, and Joel David Moore). Thankfully, now it's as accessible as it's ever been, available on various platforms for free.
Where to watch: Pluto TV (free), Peacock (free), Tubi (free)
#5: Take This Job and Shove It (1981):
Johnny Paycheck's outlaw country jam "Take This Job and Shove It" became the anthem for the workin' man sick of workin' hard back in 1971. It's still an endearingly popular ditty, and probably the song for which Paycheck is most famous.
Paycheck probably received another lofty paycheck when his song served as the basis for a comedy loosely based on the lyrics. Starring Robert Hays and Art Carney, the story revolved around a corporation that acquired four breweries and a young manager (Hays) tasked with getting one of the breweries back in good financial standing. But things take a turn for the worse when the corporation decides to sell it to a Texas oil millionaire with no sense in operating a brewery.
It's a thinly plotted "slobs vs. snobs" narrative, but it did have some charm. On top of Paycheck himself and Lacy J. Dalton ("16th Avenue") making cameos in the film, much of Take This Job and Shove It was shot in Dubuque. The Dubuque Star Brewery served as a major location, and it remains one of the most famous movies to be shot in the Tri-States area.
Where to watch: Take This Job and Shove It isn't streaming anywhere at the moment, but the DVD is available to purchase.
There are still a handful of movies that were shot in Iowa that are worth profiling. A final installment of this series (to make it a trilogy) could be coming this summer. Stay tuned!
LOOK: TV Locations in Every State