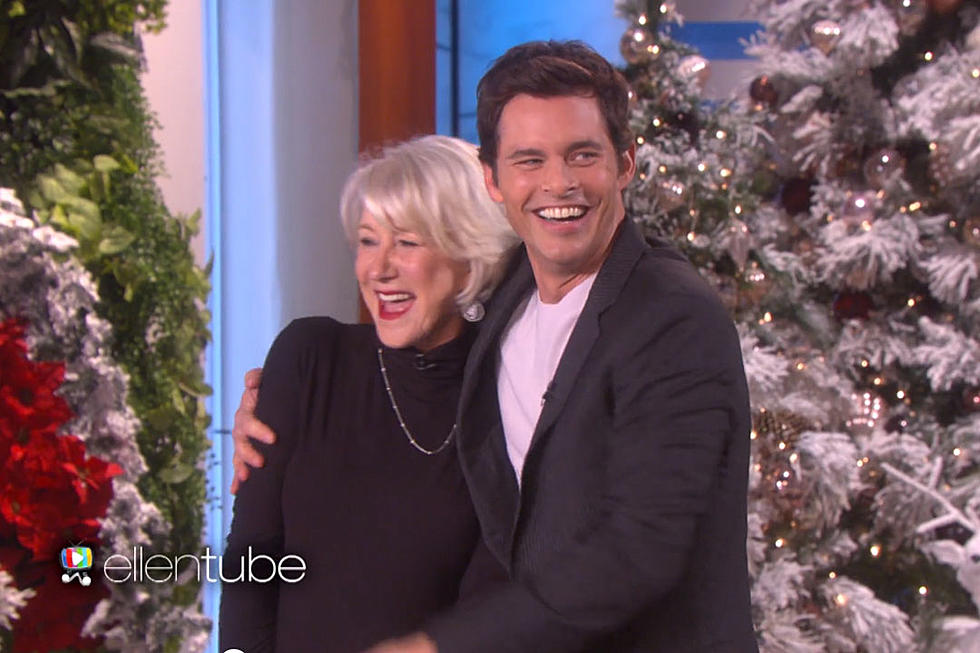 James Marsden Meets, Smooches Celeb Crush Helen Mirren on 'Ellen'
EllenTube
Meeting your famous crush must rank fairly high among the list of celebrity perks, alongside "reservations to any restaurant you want" and "an endlessly refurbished mountain of swag bags." Meeting your famous crush in front of millions on national TV is a bit more awkward — but in the case of James Marsden and Helen Mirren, it's adorable nevertheless.
Marsden, who plays cowboy host Teddy Flood on HBO's Westworld, paid a visit to Ellen in an episode airing Monday (November 28), and Ellen DeGeneres let him know that he picked a great day to visit.
"You have a big crush on Helen Mirren," Ellen established.
"I just love her. I do. I've had a massive crush on her for years," Marsden admitted, before saying he didn't get to meet her backstage. He did, however, do some light stalking when he saw Mirren in an airport.
"I'm glad I'm waiting to be on national television to admit this, but I was on a flight with her once to Rome. And when I got off the flight, I followed her to baggage claim and in a very voyeuristic creepy way I took a photo of her while she was walking," Marsden said, as his photo — a fairly close-up one of Mirren from behind — flashed on the screen behind them to laughter from the audience.
"Very creepy! I was avoiding seeing her backstage because I didn't want her to know I was stalking her in Rome in an international airport," Marsden said. Fair enough.
When Ellen brought Helen out for a hug with James, his immediate words were "I'm sorry!"
Mirren, who will appear in the forthcoming Fast 8, took his fawning in stride. Watch James Marsden meet Helen Mirren below.
The Best Movie and TV Cast Reunions Ever