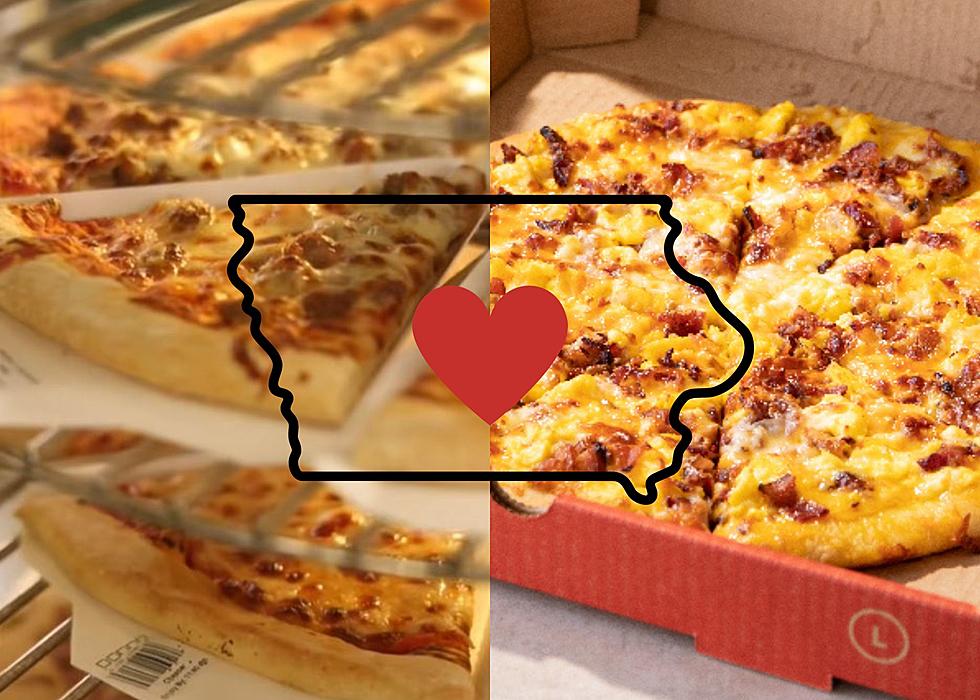 10 Things You Didn't Know About Iowa's True Love, Casey's Breakfast Pizza
Casey's Facebook
We all say we love Casey's breakfast pizza but how well do we really know it?
When I moved to the Quad Cities, I quickly fell in Midwestern love with Casey's breakfast pizza. The pizza is decked out in cheese and eggs and you can choose if you want bacon, sausage, or veggies on it. It's hot, melt-in-your-mouth, greasy, yummy breakfast food at it's best and you can just grab a slice or two on your way to work in the mornings at any Casey's.
We all know it tastes great but let's review a few facts about Casey's breakfast pizza that you might not know (no we're not going over nutrition facts, ain't nobody need to know that).
10. The crust is made for people who can't decide between thick & thin
One gold star for Casey's breakfast pizza is that the crust isn't too thin but it's not Chicago deep-dish either. As Mashed calls it, that perfect, in-the-middle crust consistency makes it the perfect "dipping agent" for ranch.
9. Breakfast pizza (or 'bizza') was born in 2001
Casey's own website says that Iowa's dear, darling breakfast pizza was born on September 14th, 2001. Casey's normal pizza was created in 1984 in Corning, Iowa.
8. There have been dozens of limited pizzas, including Beer Cheese Breakfast Pizza
Just when you think Casey's breakfast pizza can't get more Midwestern, they added a Busch Light beer cheese topping to it. But it was only for a limited time.
7. 85% of Iowans say it's the best breakfast pizza
According to Delecious Food, a 2019 study by the Des Moines Register found that 85% of Iowans said that Casey's has the best breakfast pizza. Kum & Go fell into second place, and QuikTrip in 3rd.
6. And actually the whole nation loves it. 
The Des Moines Register also found that Casey's, which is a gas station, is the 5th largest pizza chain in the U.S.
5. Celebrities love it
Mila Kunis, who is married to Iowan Ashton Kutcher, had great things to say about Casey's breakfast pizza, stating on Reddit in 2018:
It's a place called Casey's, and they're all over Iowa, and they do a delicious breakfast pizza.
4. Casey's sells millions of breakfast pizzas every year
22% of the company's 2,500 stores are in Iowa and in total, they sell about 2.5 million breakfast pizza orders every year. I'm willing to bet that most, if not all, are in Iowa.
3. Three specific holidays are big for Casey's pizza
Casey's says that New Year's Day is the busiest day of the year for pizza orders (a breakfast pizza could cure a hangover for sure). It's followed closely by Halloween and Christmas Day.
2. There are different ways to get your Casey's fix
If you don't have time to stop by a Casey's, go in and get your breakfast pizza slices, you can use the delivery option on the Casey's app.
1. Casey's is the gold standard of breakfast pizza
There's a reason it has a cult-like following in the Midwest. Mashed calls it "the pioneer of the classic Midwestern Style breakfast pizza". The cheesy sauce, the perfect crust thickness, and crunchy bacon or yummy veggies or sausage just make it perfect.
I don't know about you but now, I could go for some Casey's breakfast pizza now. What's your favorite flavor? Tell us in the app chat!
Quad Cities Pumpkin Patches
It's pumpkin pickin' time in the Quad Cities. Pumpkins make great fall decorations and they are obviously fun to carve. If buying a pumpkin at a store doesn't cut it and you want the full experience of a pumpkin patch, we have the full list of pumpkin patches throughout the Quad Cities. If we are missing any local pumpkin patches,
email us here.
10 Ways To Beat Pollen Allergies
Those who struggle with pollen allergies know the struggle can be real. Runny noses, watery eyes, and pure misery are just some of the things that come with pollen allergies. Whether it's fall or spring in the Quad Cities, these 10 remedies can help combat those allergies and make you feel a lot better.