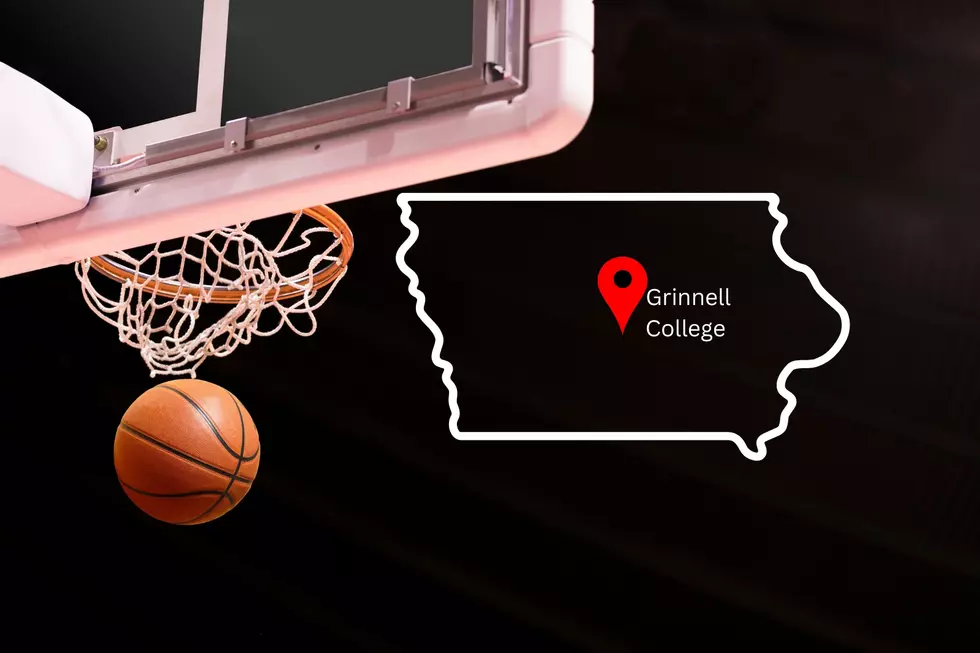 111 Three-Point Shots By Iowa Team Sets New NCAA Record
Photo Credit: Keith B. via Canva
Iowa's Grinnell College made more basketball history against Dubuque's Emmaus Bible College by setting an eye-popping record Thursday with the most 3-point shot attempts in NCAA men's basketball history.
The Grinnell Pioneers put up a record-breaking 111 three-point shot attempts in a 124-67 win over Emmaus Bible College Eagles. For the game, Grinnell shot 40-of-111 from the field, all three-pointers. The Pioneers hit 51.1% of their second-half shots. The only other points came from the free-throw line.
Watch the Record-Breaking Performance
Grinnell College is no stranger to setting college basketball records. 
The "Grinnell System" of play has attracted national attention for its hardcore full-court press, swift rotating offense barraging opponents with three-point shots, and a wave of five players substitutions every 35 to 40 seconds. 
While it's an unorthodox "system" of play, Grinnell has won three conference championships over the past ten years and has routinely placed in the top half of the conference. Indeed, Grinnell men's basketball owns several NCAA scoring records. In addition, many Grinnell players have led the nation in scoring or assists.
On November 19, 2011, Griffin Lentsch scored 89 points against Principia College. That offensive performance bested a Division III individual scoring record of 77 points previously held by Grinnell's Jeff Clement. Lentsch set the scoring record by making 27 of 55 shots. He hit 15 three-pointers to lead Grinnell to victory in the high-scoring game, 145 to 97.
As remarkable as that is, one year later, Grinnell's Jack Taylor broke Lentsch's scoring record and the NCAA and collegiate scoring records in a 179–104 victory over Faith Baptist Bible.
Taylor netted 138 points to blow past the previous NCAA record of 113. But Taylor then scored 109 points in a November 2013 game against Crossroads College, becoming the first player in NCAA history to have two 100-point games.
The Des Moines Register reports that Grinnell coach David Arsenaeault Jr. had the idea of only taking three-point shots for nearly a decade. He no longer has to wonder about the game plan's feasibility.
"It was something that I had wondered if it was possible for probably the last decade, just thinking about it, exactly how it would work, would it be even feasible to do this for an entire game, and if you did it, what would your shooting percentage look like? What could potentially be some of the other benefits in trying to play a game where you only attempted 3-point shots?" said Grinnell coach David Arseneault Jr. via The Des Moines Register's Tommy Birch.
It's always good fun seeing a small college team like Grinnell making big headlines by breaking records. However, basketball fans might conclude that Grinnell and Coach Arseneault have Emmaus Bible College's number. Thursday's three-point shootout is the second record since 2018 that the Emmaus Eagles have fallen prey to the Pioneer's unique brand of record-breaking basketball. 
Hitting 40 3-pointers in this past Thursday's game is a stunning achievement, but it fell short of the NCAA record. The Pioneers also set that record of scoring 42 3-pointers in a similar matchup against Emmaus in 2018.
Iowa Facts You Likely Never Knew
Iowa has a state with a rich history and many fun facts, How many of these did you already know? Test your Iowa knowledge!