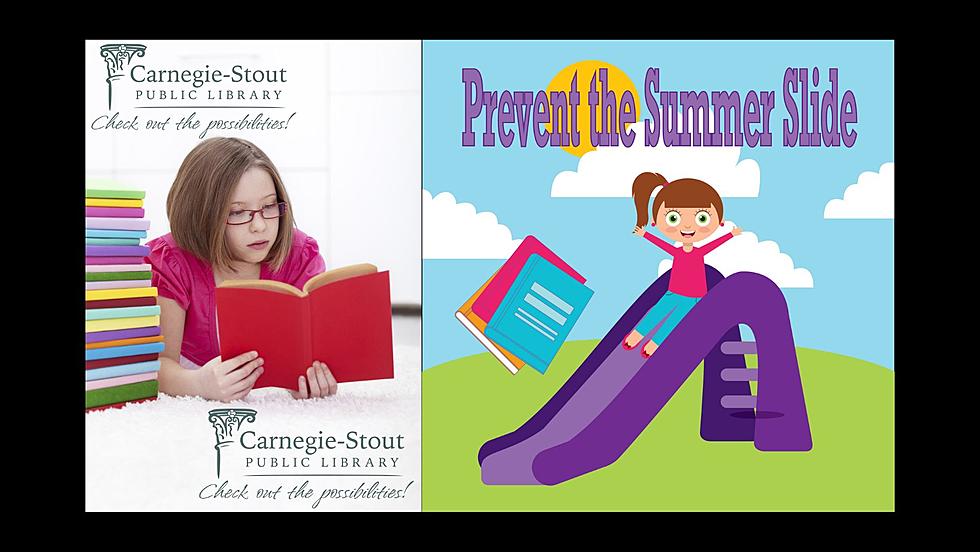 Combat the "Summer Slide" at Carnegie-Stout Public Library
Credit: Carnegie-Stout Public Library
Everyone knows that old saying; "If you don't use it, you lose it." Well over the summer, that's exactly what happens to kids who have stopped actively learning. In fact kids can lose a fair amount of the knowledge they have stored up during the school year. It's the dreaded "Summer Slide."
"Summer slide," "brain drain," and "summer learning loss" all describe what occurs when students "turn off their brains" for those exciting and fun-filled summer months. Learning loss is the general overarching term for loss in reading skill, math proficiency, or any other learned activities that are "abandoned." And, according to research on the subject, 2 months of reading skills and 2 1/2 months of math skills can be lost over a single summer.
But for local parents there is a great solution to help combat the "summer sillies," especially when it comes to elementary children. According to a press release, the Carnegie-Stout Public Library will be offering a free literacy-retention program this summer for families with children entering Grades 1st through 3rd in the 2023-24 school year.
The "Summer Brain Quest" program will help children maintain essential learning skills and include three in-person group events to support and celebrate everyone's efforts. Those interested in participating must sign up by June 1st through the libraries online calendar at carnegiestout.org to participate, or call 563-589-4225, ext. 2228.
With the "Summer Brain Quest" program, children will receive a grade-appropriate workbook with fun at-home activities, exercises, games, and more to keep them excited about learning and prevent the "summer slide." Materials and additional information will be provided to registered participants at the program kick-off event which happens on June 20th.
Carnegie-Stout Public Library has been serving the Dubuque community since 1902 and aims to improve and empower lives through accessible resources, community engagement, and entertainment opportunities in a welcoming environment. Learn more at carnegiestout.org.
And there are even more ways to keep learning in Dubuque...
Hiking Trails and Nature near Dubuque, Iowa
Nature and hiking areas around the Dubuque, IA area.
Photos: Dubuque Farmers Market 2023
Take a trip through the Dubuque's Farmers Market