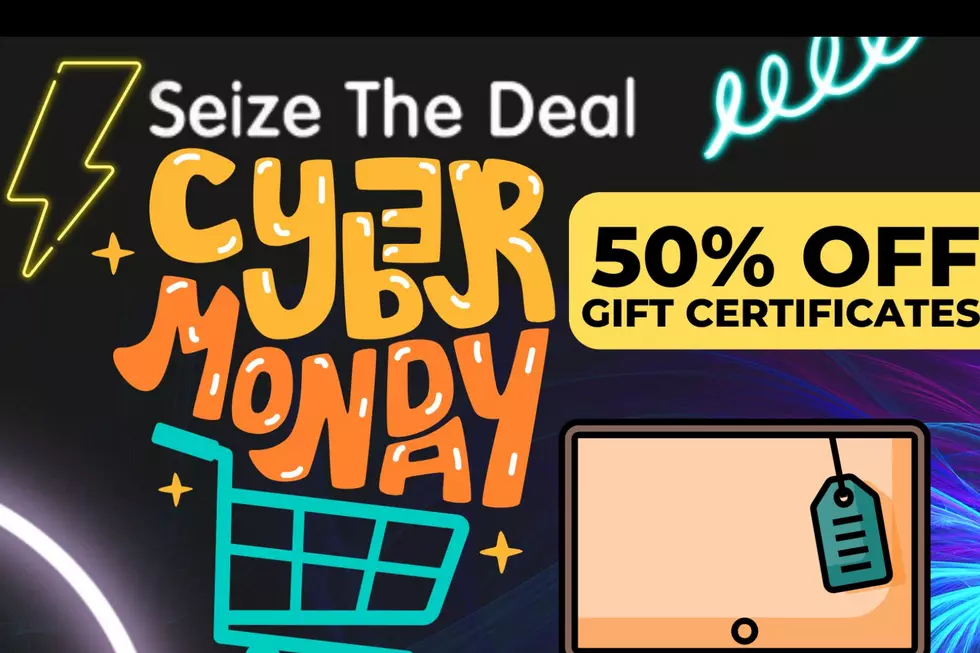 Support Dubuque-Area Businesses with "Cyber Monday" Deals Galore
Photo Credit: Katie Kotz
At one point in time, Thanksgiving deals were confined to Black Friday and the weekend. But with commerce shifting online in recent years, retailers have manifested "Cyber Monday" in order to incorporate online shopping deals into the mix.
Come Monday, you have the opportunity to shop online AND still support local, Dubuque and Dubuque-area businesses! "Seize the Deal" is offering half-priced gift certificates to a wide range of establishments. Whether you're looking for a place to eat, a cup of coffee, a new place to shop, or even some wine, Seize the Deal's Cyber Monday sale has got you covered!
All these deals go LIVE at 9am on Monday, November 28th! Only on Seize the Deal's website! Take a look below to see all the deals being offered!
Simply Parker's:
Get two, $10 gift certificates to Simply Parker's for half off!  A $20 value for just $10! Simply Parkers has opened a new location in the heart of downtown Dubuque just steps from Cottingham & Butler and the Rosek Building!  Simply Parkers will be serving up coffee, cappuccino, bagels, donuts and other small breakfast items so you can grab and go on your way to work!  Their robust gift shop features locally and regionally made products!
The Spot Nutrition:
Get a bundle of four $5 gift certificates for half off!  $20 value for just $10! The Spot Nutrition is located on Main Street and is a great hang out with a cool vibe and energizing teas, healthy shakes, pre- and post-work out drinks, popping boba and more!  The menu features many sugar free options and even some caffeine free drinks too!
Gino's East of Dubuque & The Comedy Bar:
Get that famous deep dish Chicago Style pizza from Gino's East or take in some laughs at The Comedy Bar in the historic Millwork District! Get a $25 gift certificate for half off!  Use it for food or drink either at Gino's or the Comedy Bar! Gino's East is also a great place for large groups!
Pizza Ranch FunZone & Arcade:
It's the best pizza buffet in Dubuque and now you can get a $25 gift certificate for half off for dine in or carry out! Try their new Sicilian pizza with the sauce on top or for a limited time, indulge in the salted caramel apple pecan dessert!  Pizza Ranch is a great spot to take your family out for some fun with the FunZone & Arcade!  So many games to play and great prizes to win!  Don't forget, Pizza Ranch also offers catering.
Bustin' Axe:
Get off your Axe for a night of fun at Dubuque's only axe-throwing range, located in the historic downtown.  Get a $25 gift certificate for half off! Bustin' Axe has a dedicated coaching staff that will demonstrate technique and safety so you can have a fun and safe experience. Bustin' Axe also offers a variety of drinks available for you to enjoy while throwing! Want to get involved more, check out their Winter League beginning in January 11th thru March 1st. Must be 12 years old to enter the business.
Baraboo's on Main:
Get a $25 gift certificate for half off! Formally Skinny Maginny's, Baraboo's on Main is Dubuque's Neighborhood Tavern & Eatery!  Featuring many of the favorites you loved from Skinny's and some other dishes that will surely knock your socks off! Plus, you'll want to experience their signature cocktails like the smoked old fashion called "How I Met Your Mother" or sip on the Harbor Fog Margarita!
Accessorize Me:
Get a $25 gift certificate for half off that can be used starting January 1st! Deck yourself out in some new clothes and accessories from Accessorize Me!  Located right off of Dodge Street across from Theisen's at 2794 University Avenue in Dubuque, this trendsetting boutique continues to have unmatched customer service with a wonderful team of women that are dedicated to helping you find styles and accessories that make you feel your best!
Wooden Wardrobe and Something Special:
Get a $25 gift certificate for half off!  Located in the heart of historic downtown Galena, Wooden Wardrobe has been providing beautiful women's clothing and home décor for many years.  Shop top brands like Tribal, Jag, Impulse, personalized signs, sterling jewelry, Travelon purses, Mud Pie home décor, polish pottery, 1803 candles, Meadowbrook gourds. Lizzy James jewelry.  The friendly staff at Wooden Wardrobe is ready to serve you, stop in and see them today for an unforgettable shopping experience!
O So Good Winery:
It's a $25 gift certificate for half off!  Karie and Lee Ostwinkle invite you out to their winery in Dyersville, Iowa to try their locally made wines - from sweet whites and reds to blushes and dessert wines, there is something for everyone!  O So Good Winery is also the place to be for a girls night out or your next big gathering! Visit their website to check out the music series line up featuring many local and regional bands and vocalists. Many other fun events also occur from crafting and painting nights to trivia and music bingo!
All these deals go LIVE at 9am on Monday, November 28th! Only on Seize the Deal's website!
2022 Dubuque Mac & Cheese Fest in Pictures!