Iowa Remains One of the Least Diverse States in the Nation
In Iowa, Diversity Isn't Exactly Our Jam
Take a look at the people around you.  Think about the people you see regularly, neighbors, coworkers, friends, the guy at the drive-through.  How much variety do you see?  Think past ethnicity.  Consider income ranges; do any billionaires make the list of your regular contacts?  How many extremely poor people do you interact with routinely?
We're a pretty homogenous bunch here in Iowa.  Wallethub released a report this week ranking Iowa among the 10 least diverse states in the country.  West Virginia was ranked as the least diverse state of all, while the state with the most widely varied population was found to be California.
What about education levels?  How many PhDs are you regularly seeing?  How about high school dropouts?  Only two states ranked behind Iowa in educational-attainment diversity; West Virginia and Wyoming.  Tops in that category was Massachusetts.
Think about birthplace diversity.  Do you encounter a lot of people who were born in far-off areas, or were most of the people you see born around this part of the Midwest?  Iowa is in the bottom ten states ranked for birthplace diversity.  The least diverse state: Louisiana.  Most diverse: Nevada.
Our state's ethnoracial diversity level is increasing.  Track the trend with the interactive map below.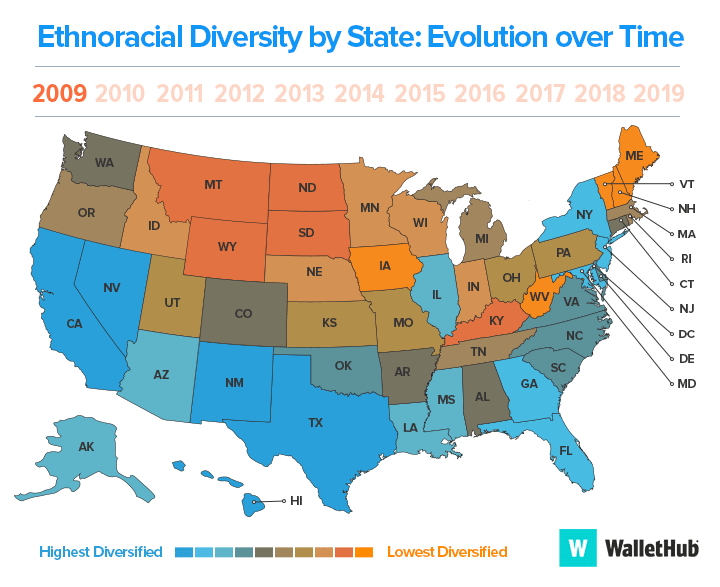 Overall Iowa ranked 42nd in diversity.  Wisconsin ranked just outside the bottom 10 at 39th, and Illinois ranked just outside the top 10 at 11th most diverse.
The study used data in six areas to compare all 50 US states, Socioeconomic Diversity, Cultural Diversity, Economic Diversity, Household Diversity, Religious Diversity, and Political Diversity.  For complete rankings and details on methodology, visit: wallethub.com/edu/most-least-diverse-states.
How Many in America: From Guns to Ghost Towns
Can you take a guess as to how many public schools are in the U.S.? Do you have any clue as to how many billionaires might be residing there? Read on to find out—and learn a thing or two about each of these selection's cultural significance and legacy along the way.