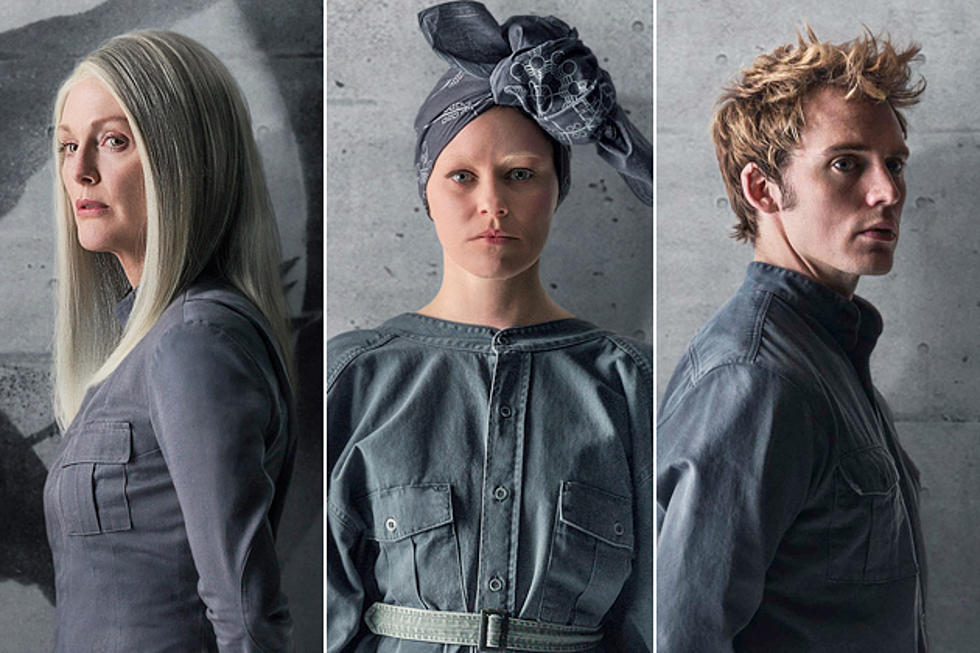 'The Hunger Games: Mockingjay' Posters Take Us Inside District 13
Lionsgate
It's official: look out, Panem because the Capitol has just become the official target of a group of rebels operating out of District 13 -- a district once thought to be destroyed. The latest bit of marketing for 'The Hunger Games: Mockingjay -- Part 1' has introduced us to the official logo of District 13, a mysterious viral site, and character posters touting our favorite schemers.
At the end of 'Catching Fire,' Katniss was officially recruited to join a rebellion against the Capitol, giving us one hell of a cliffhanger ending. All of the promotional stuff we've seen for 'The Hunger Games: Mockingjay -- Part 1' has focused strongly on this rebellion aspect, with highly intriguing (and super gorgeous) teasers, as well as some stunning photographs touting survivors of previous Hunger Games.
The latest bit of promotion brings us the official logo for District 13, the place the rebels have claimed as their own, as well as character posters for the likes of Haymitch, Beetee, Effie (!!!), Coin, Plutarch, and more. You can see the full set of new photos below -- the logo sort of looks like something from a classic action franchise, and not nearly as polished and stylish as those early teasers. This is great because we can't wait to see Katniss and Co. get real tough on President Snow and his lackeys.
Along with the pics, we also have a new viral site: District13.co.in (get it?! Coin! That's the name of Julianne Moore's character, who helps steer the rebellion). All that appears there right now is static, a small rendering of the District 13 logo, and a big QR code. We're sure that when you scan that, you'll get something pretty special.
'The Hunger Games: Mockingjay -- Part 1' stars Jennifer Lawrence, Josh Hutcherson, Liam Hemsworth, Donald Sutherland, Philip Seymour Hoffman, Stanley Tucci, Elizabeth Banks, Woody Harrelson, Natalie Dormer, and Gwendoline Christie (and a whole, whole lot more awesome people), and hits theaters on November 21.