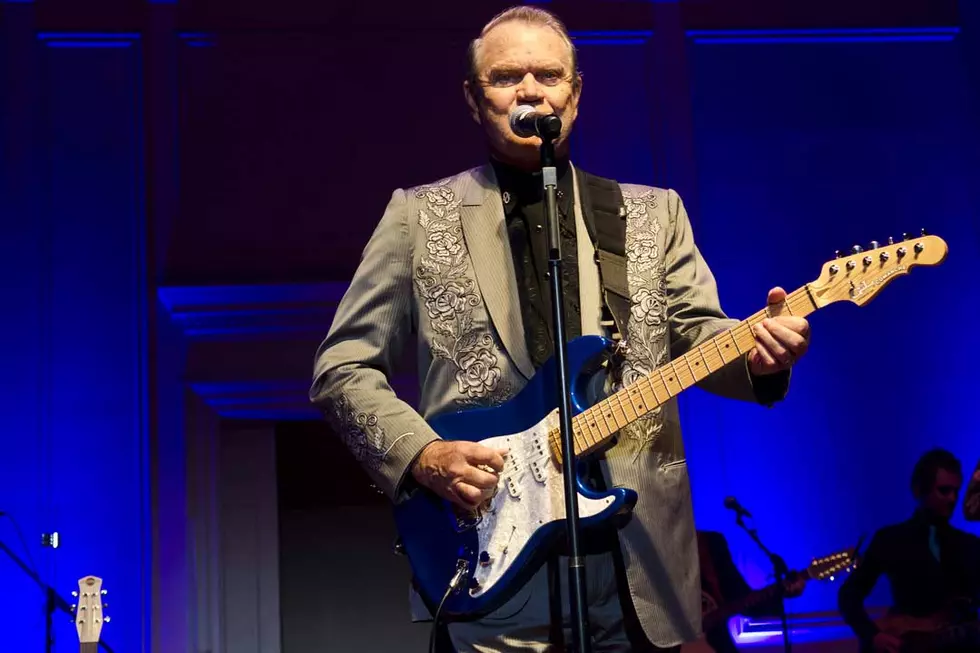 Kris Connor, Getty Images
Glen Campbell, the music legend whose career spanned more than 50 years, has died. He was 81.
According to TMZ, Campbell died around 10 AM today in Nashville, where he was being treated for Alzheimer's disease. Over the course of his five-decade career, he had scored two No. 1 hits on the pop chart, many others on the country chart and played on the Beach Boys' classic Pet Sounds album.
Campbell got his start in 1960 as a session musician in Los Angeles, where he moved from his home state of Alabama. He played with the Champs (who reached the top of the chart with "Tequila" a couple of years before Campbell joined), the Hondells ("Little Honda," which was written by the Beach Boys' Brian Wilson) and the Beach Boys (he played guitar and banjo on 1966's Pet Sounds).
In 1967, he was part of the studio project Sagittarius, before his solo career -- which he tried to launch since the early part of the '60s with a handful of stalled singles that graced the bottom part of the Top 100 -- took off later that year with his cover of Jimmy Webb's "By the Time I Get to Phoenix."
He won a Grammy for that performance, and within with the next few years he racked up more hits, including "Gentle on My Mind," the great "Wichita Lineman" (which reached No. 3) and "Galveston" – the latter of which, like "Phoenix" and "Wichita," was penned by Webb. (Campbell earned a Grammy Lifetime Achievement Award in 2012.)
From 1968-72, he hosted the TV show The Glen Campbell Goodtime Hour, and became one of the nation's most popular performers. He starred in some movies in the early '70s -- including True Grit, alongside John Wayne -- as he stacked up hit after hit on the country and adult contemporary charts. Both "Rhinestone Cowboy," from 1976, and "Southern Nights," from 1977, reached No. 1 on the pop singles chart.
In all, Campbell had more than 75 hits on the country chart, and more than 40 each on the adult contemporary and pop charts.
In 2011, he announced he was suffering from Alzheimer's. In June of this year, he released his 64th and final studio album, Adios, which debuted in the Top 40. A 2014 movie, I'll Be Me, chronicled his life story as well as his final years.
Rocker Deaths: Artists We Lost in 2017