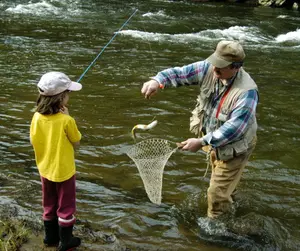 Free Family Fishing Day in Dubuque This Saturday
Getty Images
Join the City of  Dubuque for a Free Family Fishing Day at the Bee Branch Creek on Saturday, June 24. Participants will learn about fish, fish habitat, and fishing techniques. Fish species found in the Bee Branch Creek include bluegill, largemouth bass, northern pike, and yellow perch.
This event is open to all ages. Registration begins at 10 a.m. and the program will conclude at noon. Please meet at the Bee Branch Creek parking lot on E. 16th St. between Sycamore St. and Kerper Blvd. A limited number of fishing poles will be available, so please bring your own if you have one. Fishing bait will be provided. Participants 16 years of age or older will need a fishing license prior to the event.
This program is hosted by the City of Dubuque Leisure Services Department in partnership with the Iowa Department of Natural Resources (DNR) and Dubuque County Conservation. For questions, please contact the Leisure Services Department at (563) 589-4263.