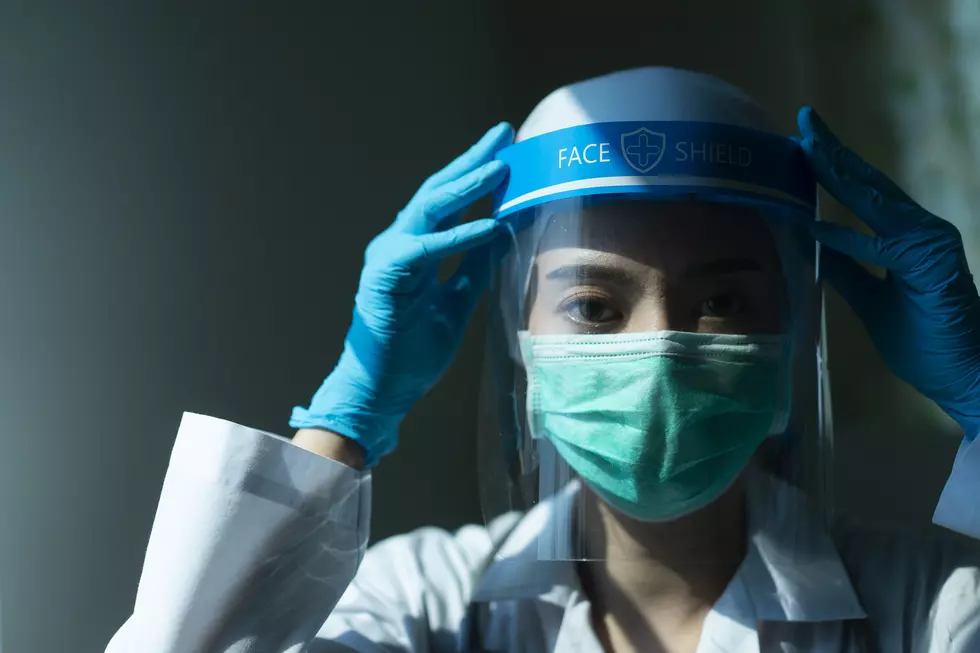 COVID-19 Vaccinations for Dubuque County Health Care Workers to Start Monday December 14th
Getty Images
Dubuque County COVID-19 Vaccinations of Health Care Workers Expected to Start Monday, Dec. 14
The Iowa Department of Public Health has made initial allocations of COVID-19 vaccine available to county public health agencies across the state. The Dubuque County Public Health Incident Management Team has placed its initial order for nearly 2,400 doses of COVID-19 vaccine for "Phase 1a" priority groups of health care workers in Dubuque County.
These initial vaccine allocations will target the following groups in Phase 1-A as recommended by the Advisory Committee on Immunization Practices (ACIP):
health care providers (HCP) with direct patient contact who are unable to telework, including those who work in inpatient, outpatient, or community settings, who provide services to patients or patients' family members, or who handle infectious materials
HCP and residents of long-term-care facilities (through the federal government pharmacy partnerships.)
Yesterday, the FDA's Vaccines and Related Biological Products Advisory Committee, made up of independent scientific and public health experts from around the country, met and reviewed the first request for emergency use authorization (EUA) for a vaccine for COVID-19 prevention, submitted by Pfizer Inc. The committee recommended approval yesterday for the Pfizer vaccine and the vaccine could receive full EUA authorization from the FDA within 24 hours.  An EUA request from Moderna for its vaccine is expected to be reviewed on Dec. 17.
Following full EUA approval, Dubuque County is scheduled to receive 1,950 doses of the Pfizer vaccine for healthcare workers at MercyOne Dubuque Medical Center and UnityPoint Health – Finley Hospital facilities on Monday, Dec. 14, and vaccinations of those staff will begin immediately.  Assuming Moderna receives EUA approval next week, 400 doses of the Moderna vaccine are scheduled to be received for healthcare workers at Crescent Community Health Center, Grand River Medical Group, and Medical Associates Clinics facilities on Monday, Dec. 21.
"The Incident Management Team has been preparing for this initial phase in partnership with our local health care providers for some time," said Patrice Lambert, executive director of the Dubuque County Health Department.  "As we implement this phase and continue to prepare for safe and reliable vaccinations to become available for the general public, I encourage everyone to be patient. This will be the largest vaccination campaign in our nation's history.  Vaccination of the majority of the population, will be the best way to achieve herd immunity to COVID-19 and while we wait for our turn to get the vaccine we all must  continue and maintain mitigation strategies such as hand washing, mask wearing, social distancing and staying  home when ill."
This initial distribution of vaccinations will not provide enough doses for all healthcare workers at hospitals but will definitely be a good start on vaccinating those HCPs who have the most contact with COVID-19 patients as identified by Iowa's Infectious Diseases Advisory Council, which was created to provide guidance on the prioritization of the vaccines in Iowa.
Phase 1a also includes residents and staff at long-term care facilities.  The county public health incident management team expects the vaccination of residents and staff at Dubuque County's 11 long-term care facility to begin on Monday, Dec. 28.  As part of the federal government's partnership with large chain pharmacies and networks, these vaccinations will be conducted by pharmacies that serve each facility, including CVS, Hy-Vee, Walgreen's, and others.  Vaccination of assisted-living facilities are expected to follow in January as more vaccine becomes available.
COVID-19 vaccinations for the general public are not expected to be available until some time this spring. The public is asked to be patient as priority populations are first vaccinated and vaccine production is accelerated. The public should not contact their health care providers at this time regarding COVID-19 vaccinations.  Information on vaccination opportunities for the general public will be shared when available.