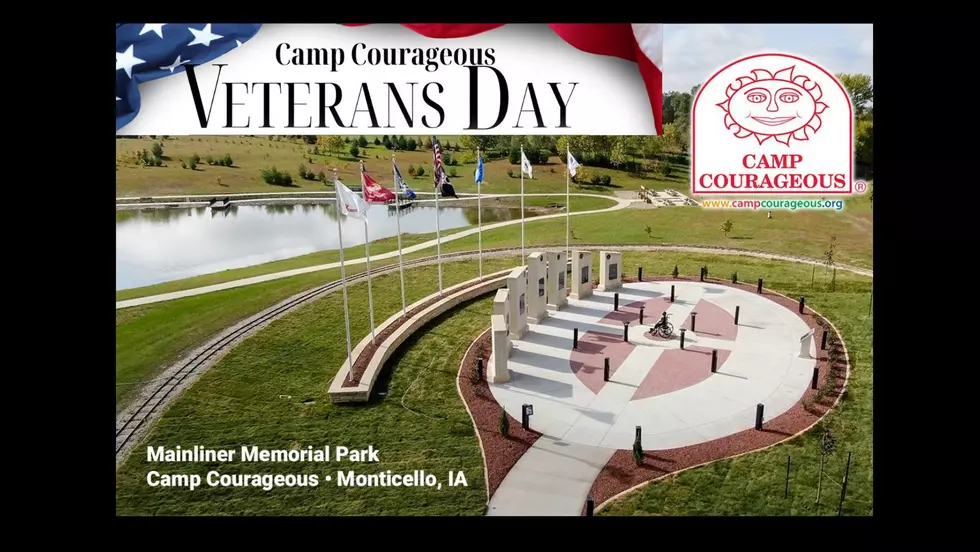 Camp Courageous Hosts Veterans Day Tribute
Credit: Camp Courageous
According to a press release; Camp Courageous will host a Veterans Day Tribute at the Durgin Pavilion on Friday, November 11th from 1 to 3pm.
All Veterans and their families are invited to attend this free event. The afternoon will include the Mainliner Memorial Park, zipline rides, food, beverages, bowling, bingo, and more. Prizes for this special event are sponsored by The Cone Shop (Monticello, IA) and Las Brasas Mexican restaurant (Anamosa, IA).
During the Veterans Day Tribute at Camp Courageous, visitors will be able to tour the Mainliner Memorial Park. Located inside the camp's train loop, next to the Durgin Pavilion at Lake Todd, this park stands as a memorial to all those who have, or are currently serving, in the United States Armed Forces, the heroes on the frontlines of the COVID-19 pandemic, and everyone who has sacrificed and helped during these unprecedented times. The memorial features seven flag poles. One to represent each of the six service branches (Army, Navy, Marines, Air Force, Coast Guard, and Space Force) with the center pole featuring the US flag and the POW/MIA flag under it. The Armed Forces flag display is placed inside a limestone raised flower bed. In front of the flags are seven beautiful limestone monuments. The stones represent each branch of service with beautiful black granite inlayed with etched illustrations of the branch. The center stone features the United States.
In the center of the Mainliner Memorial Park visitors will find a bronze sculpture of a camper in a wheelchair with her hand over her heart. It illustrates her saying the Pledge of Allegiance, just like a typical day at Camp Courageous. On the opposite side of the Armed Forces Display is a tribute to all those heroes, some who gave all, during the COVID-19 pandemic.
Camp Courageous welcomes all Veterans and their families to the tribute event as a thank you for their service and sacrifice. All veterans who come receive a free one-day swim pass to the Camp Courageous pool. In addition, the general public is welcome to visit the Mainliner Memorial Park anytime throughout the year.
LOOK: 100 years of American military history
Photos: Palisades-Kepler State Park
Take a hike through Palisades-Kepler State Park, just outside of Cedar Rapids, Iowa.