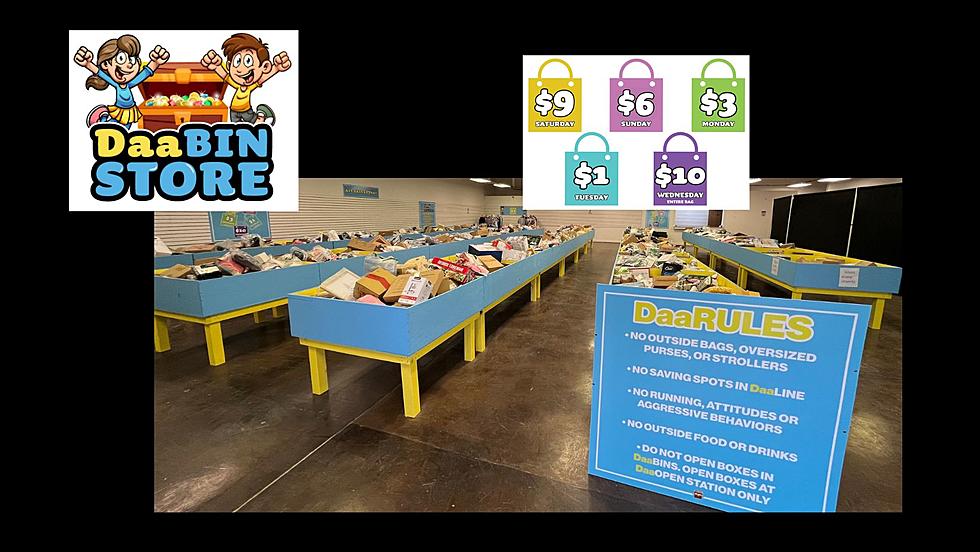 DaaBin Store Now Open At New Location In Dubuque
Credit: Dubuque DaaBin Store
The city of Dubuque seems to be an ever-changing landscape of businesses, entertainment, and foods. In fact, some people may have noticed that a certain Dubuque "bin" store has moved to a new location, although it's just next door.
According to a report from BizBuzz, DaaBIN Store in Dubuque is now located at 4470 Dodge Street, right next to its previous location at 4482 Dodge Street. The new location was previously a NAPA Auto Parts, which has since moved to 4103 McDonald Drive. The store's reopening at its new site was held Saturday, March 11th.
"In the (previous) space, it's a lot smaller. After we opened, the fire marshal came through and our capacity limit was low. That was a hit to our business. We needed to let more people in at once. The new space is definitely quite a bit bigger than the old space."

-Stephanie Rainey, Manager of Dubuque DaaBIN Store.
The previous location, which first opened in March of 2022, had a set capacity of 49 people. Rainey thought this was actually to the detriment of the location. As of this article, the new store location has not yet gotten an occupancy limit, but it is expected it to be higher than the previous location, they have also added more bins.
DaaBIN Store has 17 locations across Iowa, Wisconsin, North Carolina, South Dakota and Virginia.; with Iowa having the most store locations at seven. Products at the store range from electronics and toys, to home goods and they all change weekly. Most products come from business liquidations, Amazon returns, or store overstocks.
Basically, a shipment of new product arrives weekly. The workers restock their supply of goods on Thursday & Friday, and then on every Saturday the store has a flash day sale. First come first served as always. Every day following sees the remaining goods decreases in price until Wednesday when they have a fill your bag for $10 sale at the store. The new location now provides for 50 bins, up from 42.
"We fill up all of our bins in no real order. We just fill them all up, and the customers come in. We like to call it a treasure hunt. You never know what you're going to get: laptops, air fryers. Dubuque has been a really good market for us. That's why we tried so hard to find a new building to fit more people in."

-Stephanie Rainey, Manager of Dubuque DaaBIN Store.
For those of you interested in a treasure hunt of your own, DaaBIN Store in Dubuque is open from 9am to 7pm Saturdays, 10am to 6pm Sundays, 11am to 7pm Mondays and Tuesdays, and 11am to 4pm Wednesdays. More information can be found at their website or on their Facebook page.
CHECK IT OUT: See the 100 most popular brands in America
15 Iconic Retail Stores That Don't Exist Anymore (But We Totally Miss Shopping At)