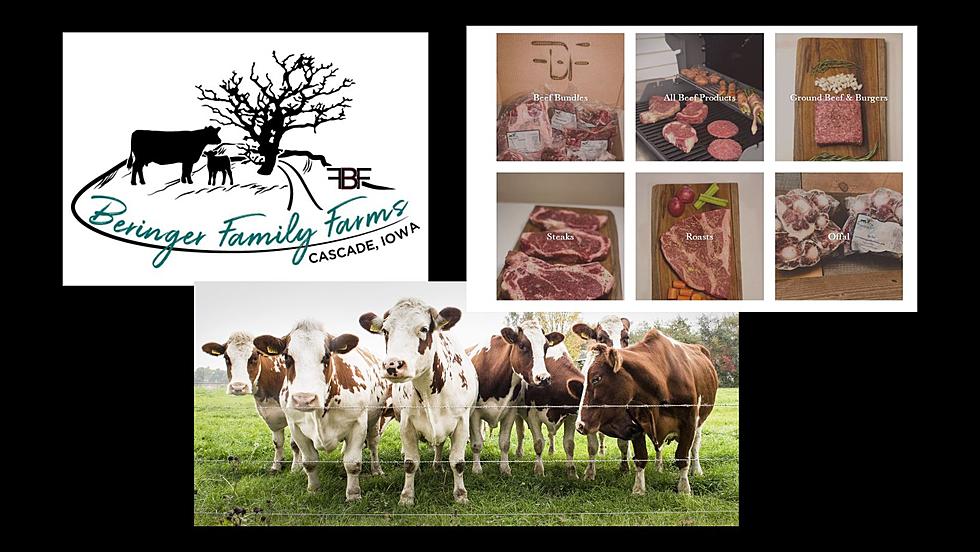 Cascade Farmer Finds Success Selling Beef Online
Credit: Behringer Family Farms
A Cascade farmer's mail-order beef business is selling like sizzlin' steaks. Literally!
Beringer Family Farms located at 28031 Goose Hill Road in Cascade, Iowa launched in January of 2021. Since then, Lillie Beringer, owner of the business, has grown it to meet a shift in demand.
"It spiraled like crazy, but it's so exciting, and I'm so passionate about sharing the farm-to-plate story and initiating the local food movement. We're really just trying to think outside the box on how to get beef out into the community."

-Lillie Beringer, Owner/Operator of Beringer Family Farms

 
According to their website, Lillie's grandfather, who is the one who started Beringer Farms in the 1950's, was her best friend and hero. In fact, everything they do at the farm is with future plans and goals in mind. Beringer is part of the third generation in her family to work on the farm founded by her grandfather, William.
"Raising beef and living on the family farm is all I have ever known. My Grandpa started farming in the 1950s, joined by my dad and uncle years later, and now it's my turn as one of 26 grandchildren to lead Beringer Family Farm's into the future and carry on my Grandpa's farming legacy. That future is to continue to raise consistent, high quality, Angus premium beef for you to enjoy. There are simply no short cuts taken on the farm- from the day a calf is born to the last day of being fed roughly 14 months later, I provide the daily care to ensure my animals are raised in the most natural, humane, and healthy environment possible. A little dirt and grease doesn't scare me- it is just the sign of a hardworking woman doing what she loves! I have a passion for agriculture and the farming lifestyle, and I truly believe the food you eat should tell a story, not just be a label. I want to be that female farmer who you know and trust the story behind WHERE your beef comes and HOW it is raised. I am happy to answer questions and share my farm life with you and hope you follow along on Facebook & Instagram @beringerfamilyfarms!"
According to an article from biztimes, the mail-order business originated by accident after friends suggested Lillie expand the farm's online presence. After that, people began asking, "How do we purchase the beef?" Customers can order individual cuts of meat for either pickup or delivery through the mail-order beef service, with deliveries are shipped Mondays and available across all 50 states.
That portion of the business has recently taken off, with Beringer more than doubling her output across recent months. In March, Beringer began providing beef to Monticello restaurant The Market at the Tap (which can be seen above form a Facebook post). She also provides beef to Aquin Catholic School in Cascade, with plans to expand to additional schools next year. Her beef is also sourced to St. Matthias Food Pantry in Cascade and the Rural Community Food Pantry in Dyersville.
I, and the entire community of Cascade and the Tri-States, applaud Beringer on the success of her business with hopes for continued growth. She also plans to host several events at the farm throughout this year, starting with the first farm-to-table dinner on June 8th.
View this post on Instagram
For more information on Beringer Family Farms, check out their website at beringerfamilyfarms.com. The farm can also be found on Facebook and Instagram @beringerfamilyfarms.
Photos: Dubuque Farmers Market 2023
Take a trip through the Dubuque's Farmers Market
PHOTOS: Cascade's Annual Wing Fest 2022
Cascade's Annual Wing Fest was exactly what a local community get together should be!