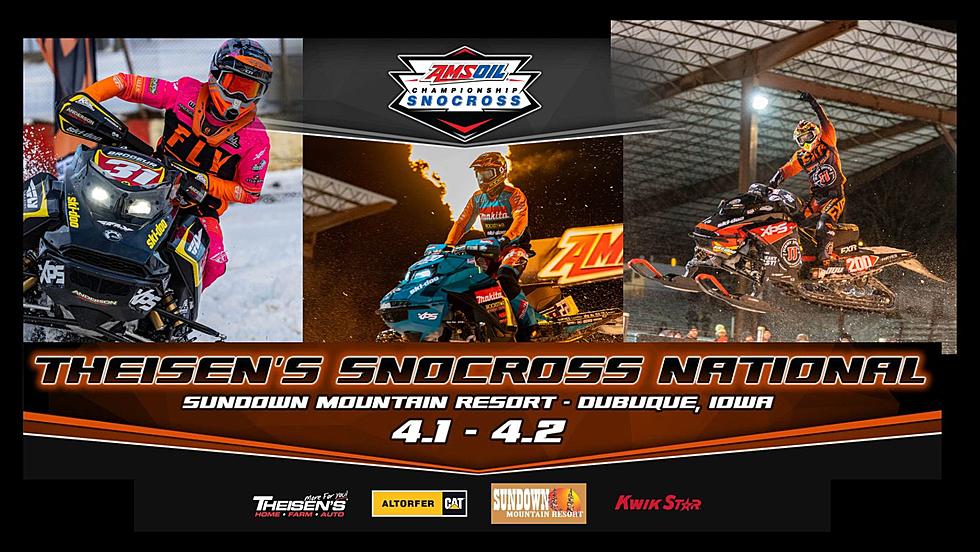 AMSOIL Championship Snocross Hits Sundown Mountain This Weekend
Credit: AMSOIL Championship Snocross / Theisen's / Sundown Mountain Resort
Dubuque is getting revved up for high octane action on the snow; as the AMSOIL Championship Snocross takes over Sundown Mountain this Saturday and Sunday (April 1st & 2nd) for rip-roaring snowmobile racing.
This is the last race of the season; so it's your chance to see professional racers battle for titles and a strong finish! And this family friendly event is great, high-speed fun with loads to enjoy; fireworks, vendors, pro autograph sessions, and loads more.
The ISOC (The International Series of Champions) is headquartered in Albertville, Minnesota, a Twin Cities suburb in the heart of the snowbelt. Founded in the mid-1990's by John Daniels, ISOC has always been known as "the racers circuit", with the best track design, safety, and racer payouts in the professional snowmobiling world.
AMSOIL Championship Snocross is currently the #1 Snowmobile Race Series in the World. This racing series in Dubuque will feature the finest professional and amateur athletes in the sport. You'll also get to enjoy seeing those racers on the best, most technically challenging tracks in the world; featuring a combination of big-air jumps and exciting racing action.
And remember, voting is now open at this link for the 2022-2023 AMSOIL Championship Snocross Specialty Awards. Put your fan favorite vote in today! For a full FAQ on ISOC / Snocross visit  AMSOIL Championship Snocross at this website. You can also find a full schedule to the AMSOIL Championship Snocross at Sundown Mountain this Saturday and Sunday (April 1st & 2nd), available at this link.
2022 Dubuque Mac & Cheese Fest in Pictures!
PHOTOS: Cascade's Annual Wing Fest 2022
Cascade's Annual Wing Fest was exactly what a local community get together should be!