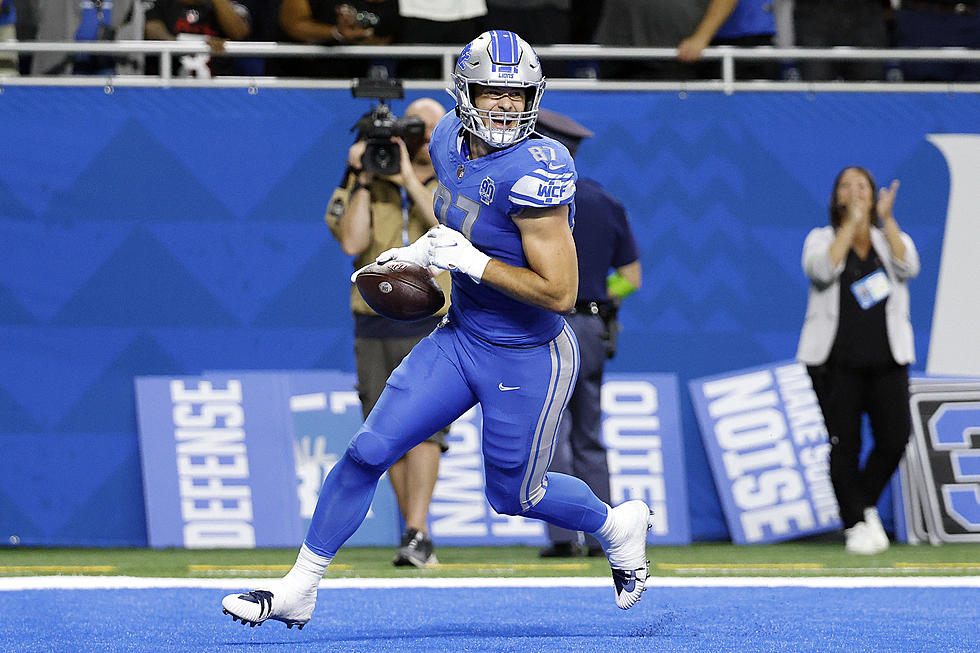 Former Iowa Tight End Has Record-Breaking Day for Detroit Lions
Photo Credit: Mike Mulholland, Getty Images
For a football team with Super Bowl aspirations, every guy on the field has to do their job, and that includes rookies. For the first time in over 30 years, the Detroit Lions have high expectations for how they want this season to play out. They're off to a phenomenal start, and a good amount of credit is due to the rookies that are showing up and showing out early.
One of those rookies is a former Iowa Hawkeye, who is making his presence known and felt for the city of Detroit. The 22-year-old tight end had himself a record day yesterday in the Lions 20-6 drubbing of the Atlanta Falcons.
Rookie tight end Sam LaPorta for the Detroit Lions became the first at his position in NFL history to begin his career with at least five catches over his first three games, per NBC Sports. Through the first three weeks of the season (wins over Kansas City and Atlanta and a loss to Atlanta), LaPorta has 18 catches for 186 yards and a touchdown this season.
LaPorta was selected by the Detroit Lions in the second round of the 2023 NFL Draft. What put the Lions in position to draft LaPorta was the fact that they had multiple second round draft picks, one of which they obtained from the Minnesota Vikings in exchange for tight end T.J. Hockenson. LaPorta was selected with the 34th overall pick.
LaPorta broke a record set by tight end Keith Jackson, who had 17 catches in his first three games as a rookie for the Eagles in 1988. Jackson went on to finish second in rookie of the year voting and was a five time Pro Bowler as well.
LaPorta was a stud for Iowa, starting as a true freshman in 2019 where he played in 12 games and amassed 15 receptions for 188 yards. By his senior year in 2022, LaPorta had developed into a reliable pass-catcher with 58 catches for 657 yards. He finished 14th at Iowa in career receiving yards (17,86), and ranks first among Iowa tight ends in catches (153) and second in yards.
In true football fashion, LaPorta was happy about his milestone, but had the same "back to work" mentality the great players in the NFL have:
It's cool. I mean, it's cool to acknowledge for a little while and then gotta move on. We got a game in four days, so gotta get ready for that. - per The Detroit News
Not only was LaPorta's first NFL touchdown a 45-yard bomb from quarterback Jared Goff, but the former Hawkeye's family was also seated near where he scored, which was surely a memorable and exhilarating moment for all in attendance.
Read more about Sam LaPorta's record-setting start to his career on NBC Sports.
Iowa Born Sports Stars
What do each of these stellar athletes have in common? They all hail from the Hawkeye State.