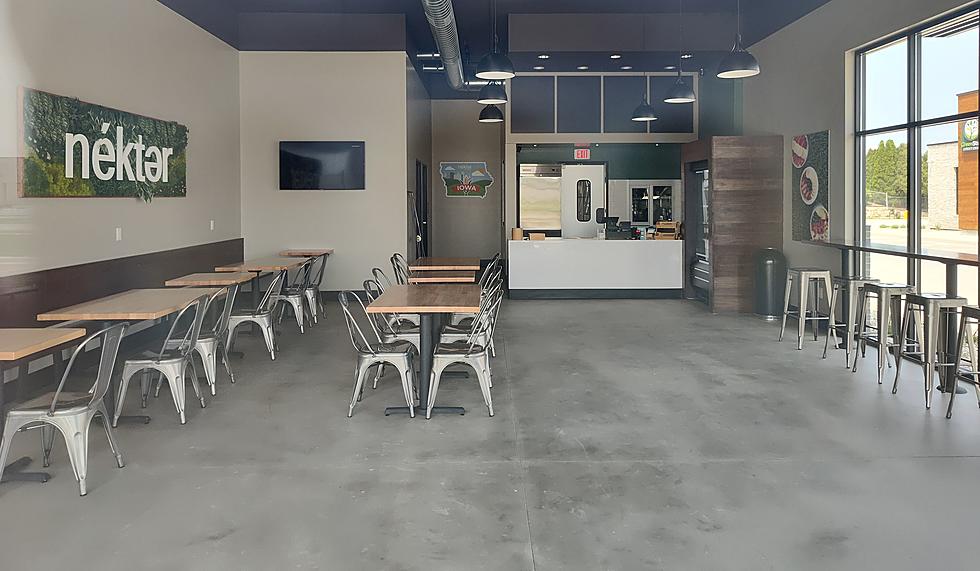 Dubuque's New Juice Bar is Quickly Approaching Opening Date
A peek inside Nekter Juice Bar in Dubuque. Photo Credit: Steve Pulaski
While running errands yesterday afternoon, I was able to get a peek at a juicy new store that is set to open in Dubuque in a week's time.
In March, it was reported that Nekter Juice Bar would be coming to the area, specifically, the new strip-mall on Stoneman Road. Known as the "Stoneman Commons," the recently erected strip is located off of John F. Kennedy Road in Dubuque, adjacent to the new GreenState Credit Union building and positioned within walking distance from Kennedy Mall.
Just from peering into the window of the building, Nekter looks sleek and modern. The juice bar's menu features a variety of handcrafted bowls, including Acai Banana Berry and Dragon Fruit, as well as smoothies such as Pineapple Matcha, PB Mocha, and Strawberry Banana Protein. At a time when people are more health-conscious then ever, Nekter looks to provide those nutritious options for Tri-Staters.
According to the business' Google profile, opening date is set for May 31st, 2023. Nekter is also the first business to be officially announced in Stoneman Commons. Nikki Mulligan, owner of the Dubuque Nekter Juice Bar, told Telegraph Herald/Biz Buzz back in February that prioritizing health and wellness options in the area is the number one goal:
The idea behind Nekter is this idea of helping our community really just embrace and optimize their overall health and wellness. We have a fresh, natural menu. It's about feeding our bodies essential vitamins and nutrients we need, and we're bringing something that people have a hard time finding in Dubuque.
The news comes amidst a flurry of other businesses opening in the area, specifically Kennedy Mall, which just saw a new clothing store come to the shopping center as well as a health and wellness store reopen this week. I look forward to trying Nekter shortly after it opens.
Nekter Juice Bar is located at 3415 Stoneman Road in Dubuque.
Photos: Dubuque Farmers Market 2023
Take a trip through the Dubuque's Farmers Market